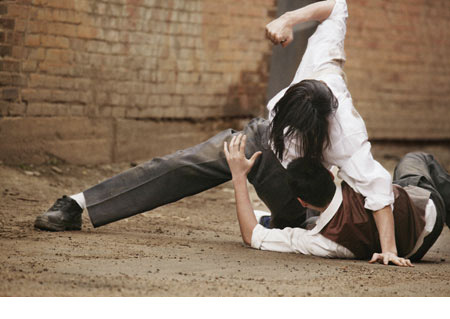 Hey everyone, Reecius here from Frontline Gaming to talk about the much maligned assault phase of 7th ed 40k!
If you surf ye old interwebs for any 40k advice, you will often hear folks say that assault is dead, or that assault armies don't work in 40k anymore, etc. To this I say: nuts!
Assault is most certainly NOT dead and in fact, is one of the best tools in the tool-chest for dealing with a lot of the problem units in the game at present. Here at FLG we play a very competitive meta and a lot of the regulars I game with field extremely powerful lists. I personally prefer to play TAC (Take All Comers) lists, and so have been forced to find ways to counter some of the hyper powered combos and units that are prevalent in the area I play in. And in short, the solution is often the assault phase. But what's a guy to do in the face of Wave Serpents, Lynx(s?), Barbed Heirodules, Knights, etc.?
Punch them in the dingus, that's what! So why is assault good at clearing away enemy units? For one, there are two assault phases for every shooting phase. In theory, this allows twice as much damage to be dealt. In practice, you don't often have turn 1 assaults and as such you don't typically realize the full potential of the assault phase, but simple math tells us that if you can get half of the turns in combat as shooting, they still equal one another. Secondly, assault tends to be deadlier. No cover saves, generally more attacks and more powerful attacks, and decisive outcomes such as running a unit down or sending them screaming for the board edge and out of play. Good combat units routinely net the most damage for me, and played well, will consistently be all stars.
I think the real reason many gamers out there feel that assault is weak is not because of actual game mechanics but because of the terrain they play on. Shooting will dominate an open table. If you use adequate LoS blocking terrain to allow units to hide and utilize maneuver, it is a very different story. Don't play on planet bowling ball!
The keys to making these units work are as follows:
Speed. I cannot emphasize this enough. You need to be able to get into combat as quickly as possible. Every turn you aren't punching someone in the nuts, you are wasting points invested into this unit. You want something that ideally ignores or mitigates terrain penalties, too. Baring natural speed, you can settle for a good delivery system such as a transport vehicle, or some ability to rapidly move such as a Drop Pod, or psychic ability. Just note, if you rely on these things you may not be able to actually catch your opponent if they are also quick. I have often dropped a tough unit into the middle of my opponent's force simply to have them move away and out of charge range.

Note: as always, there is the exception to the rule. This is typically when you use your assault unit for board control/counter assault duties in which case charging headlong into them may not be the wisest choice. However, even in this instance, speed is still preferred as it allows the unit to perform these tasks more efficiently.

Morale Control. It is disastrous to have a key assault unit unable to perform its function because it is broken or pinned. If you run away or get pinned, you typically lose 1-2 turns of impact. Fearless is best for these units, but baring that, high Ld, ATSKNF, a reroll on morale, stubborn, etc. are all extremely important to getting the most out of these units to keep enemy units tied up and not break at just the wrong time. Predictability is the name of the game.
Durability. A good assault unit needs to be able to take damage on the way in and survive to deliver a powerful enough blow to have impact. This can take many forms and doesn't have to simply mean being hard to kill. A unit with a lot of ablative wounds is a great example (meat shields), or some type of reroll save mechanic, or high toughness, multiple wounds, etc. You want some way to ensure that this unit can weather the storm and get to grips with the enemy. Also, a big point to note here is Eternal Warrior. You REALLY want this rule on a dedicated assault bad ass. The reason being, especially if you are only T5, is that every point spent on a model that can get splatted in one attack is a point spent at high risk. Unless the character/unit is cheap, you don't want to crank up the points spent on them unless you have a way to mitigate them getting singled out and insta-gibbed, such as in a challenge.
Impact. This may seem a bit like a Duh! point, but it is important. The unit needs to be able to damage ANY target to be a true TAC assault unit. Typically this means a good number of high Strength, low AP attacks, or some other type of mechanic such as Rending, Fleshbane, Armorbane, etc. If you find yourself facing something you can't hurt, the points spent on this unit become wasted.
Challenge Shenanigans. You need a way to be able to play the challenge game to your advantage. You can be the baddest dude in town, but if a canny player simply challenges your character into a fight it can't win, or that takes it off of the models you actually want to kill, you just saw those points wasted. Often, the best way to play this game to advantage is to take cheapo characters that you cna sacrifice in a combat to either protect your characters or to take enemy characters out of play. A perfect example of this is with Orks. Orks typically HATE challenges as their low armor Nobs will often get killed in a challenge with dang near anything before they swing the Klaw that the rest of the unit needs wrakcing up kills in order to not lose combat. Tossing in a cheap Mek into a unit to serve no purpose other than saying, "yes, Abbaddon, I accept your challenge! Stand back Boyz, I got this!" while the Nob mops up the rest of the Chaos unit. Now, if your unit does not rely on a character to do the heavy lifting, say as in a unit of Daemonettes where the unit's power comes form volume of dice contributed by each model, then this is less important.
A part of the Whole. No assault unit is an island. It is a part of the overall tapestry that is your list and should be complimented by, and compliment other units in order to operate at maximum efficiency. Don't just slap a unit into your list and expect outstanding results. Consider how it will impact and be impacted by your other units and how its strengths and weaknesses will interact with your list. And remember, everything counts in large amounts! If a single unit is getting smoked, try two or three. You get exponentially more utility out of duplicating units (which is why Spam armies often perform well). Note though, this doesn't always mean taking the exact same things, but units that perform similar functions. If your opponent can destroy one assault unit before it gets there, he may not be able to destroy two and the survivor gets to get stuck in.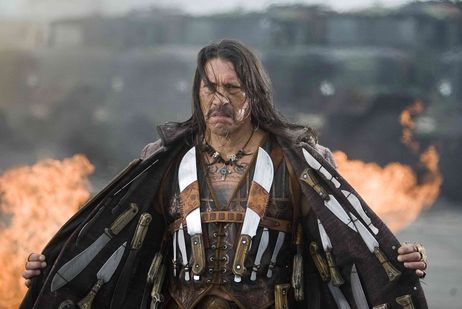 Hopefully this opens up some of the available options. There are limitless ways to pull this off, but keeping the above in mind, you can make effective assault units or armies in 7th ed and do quite well. So, to wrap up, here's an example of a unit that does most or all of the above!
Space Wolf Battle Leader or Wolf Lord on a Thunderwolf with a Power Fist and Wolf Claw, 2+ armor, plus Invulnerable Save and 2 Fenresian Wolves (Note, you can sub in an Iron Priest on a Wolf to save points and still have great impact).
15 Fenresian Wolves with a Cyberwolf
This unit is super fast, moving 12," ignoring terrain, rerolling run rolls and assault rolls with Fleet. This is the unit's greatest asset.
It also has morale control. With ATSKNF and either Ld9 or 10, this unit is unlikely to fail at a critical moment, cannot be broken and even if it does break, it will instantly rally. Pinning is the real threat in terms of morale, so be wary of that.
The Character joins the Fenresian Wolves. He brings along his little Wolf buddies and now has 17 ablative wounds. That is fantastic, especially considering you can easily get cover saves on the little Wolves who are a steal at 8ppm. The punchy character is also quite durable at T5, with a 2+ and either 3 or 4 wounds.
The unit hits hard. The little wolve sactually pack a decent punch with 2 attacks each which helps a ton with clearing out light infantry. The character is a murder machine with either 6 or 7 attacks on the charge either at I1, Strength 10, AP2 (yes, we interpret the rule that way) or Strength 6, Rending, Shred, AP3 attacks. As both weapons are Specialist, you do get the bonus attack and tons of flexibility. Even if you get charged, you still get the same number of attacks as everyone has Counter Attack. Nice! Primarily this means this unit is a threat to anything on the table with such a wide variety of powerful attacks available to it.
The unit also has an ace up its sleeve in the form of the Cyberwolf. Cyberwolves, aside from being awesome strictly because they are cyborg Dire Wolves, are also Characters, which means they cna accept or take a challenge. This is invaluable. Your Character has the critical weakness of being T5, which means a single strength 10 or ID attack can smush him, so you need to be prepared to work around that. Ye old Cyberwolf is there to save his master when it gets a little dicey!
Lastly, this unit works well in a wide variety of lists. You can support it with shooting units, other units like it, and get a lot out of it. It can provide a lot of pressure, take out key enemy units with ease and is very reasonably costed for what you get form it. I have been running the above with an Ironwolf+Cyberwolf and the unit is just incredibly good. The only times I really see it falter is in the face of high volume firepower that can ignore LoS and/or cover such as template heavy attacks, barrage, SMS, etc. The little Wolves melt and leave the characters without protection where they don't last long. Knowing when and how to support them is critical.
Hopefully this has inspired you to get back out there and punch someone!…on the tabletop, of course.
Happy gaming.