Heyo everyone, It is the world's worst 40k player here, Hotsauceman. I'm here to tell you about a sadly neglected unit in the Tau Empire, The TX7 Hammerhead Gunship. For more tips, check out Tactics Corner for more fun stuff.
The Hammerhead is the main tank of the Tau Empire. With its anti-gravity it is able to effortlessly glide over obstacles and still deliver a crushing blow. It has several turrets, with each one changing its role in the battlefield. But they are renowned tank killers with the fearsome Railgun. Even if that weapon leaves some room to be desired in the game itself.
With the decline of vehicles in general and the rise of Monstrous Creatures for the Tau, the Hammerhead has fallen to the wayside. It just doesn't pack the same punch a Riptide or Stormsurge does. But I feel they are still a half decent unit. They are pretty cheap and can bring some decent firepower. This review will also touch upon the Forgeworld turrets as well. The problem with the Forgeworld turrets is that it is a separate unit with a separate name. So they cannot be taken in units, cannot be taken in formations and cannot take Longstrike. So they will be more of a second part of the review.
Wargear:
Railgun with Solid shot: The formally feared tank killer of the Tau Empire. Not that bad , but in an era of D everywhere, if falls short of being able to actually kill something without some luck.
Two MV1 Gun Drones: Can disembark for some shenanigans, but sadly cannot hold Objectives.
Optional:
Submunition Rounds for Railgun: For a small price, your tank killer gets some versatility. Pretty good IMO, for cheap it can get a large blast
Two Seeker Missiles: Not bad, but it is a bit expensive for what they do. I would pass
Exchange Railgun with Ion Cannon: A free exchange, this changes the tank into a dedicated marine killer and light vehicle hunter. Both are good, so take what you want and according to your list.
They may exchange the Gun Drones with
Twinlinked Burst Cannon: Ok, but depends on the build because these are infantry killers.
Twinlinked Smart Missile System: Dedicated infantry killers as well, what I always choose.
Special Rules:
Fire Team: If you have three models in the unit, you get +1 BS. Makes them all BS5. Still susceptible to the "Curse of the 1" that pops up.
Tactics for these guys are kinda difficult. Everything they do, our suits can do 10 times better. When I do use them. I use them according to what role I want them to have. They mostly have two roles. The tank killer with the Railgun, and the infantry killer with the Ion Cannon. They are slow, but can keep firing even on the move. With the range of their weapons, they don't need to be that fast however. The problem is they are a vehicle in the era of Grav Weapons. So two Hullpoints and you are dead. Against normal weapons they have decent armor, but with the amount of Ignores Cover, you are kinda hosed. The problem with them is that they don't put out enough shots to actually be worth the points they are. However, they can be upped to good levels with some of the formations.
The Hammerhead is sadly not in many formations. It is in a total of 2 formations. It can be taken in both of the Tau Decurions though. In the Hunter Contingent it can share its Markerlights. Not great but combining fire can lead to them getting a higher BS, but they are bs4 naturally, so not that big of a change. In the Hunter Cadre it can Overwatch farther (if you give it one of the upgrades that allow it) when doing Supporting Fire. The Dawn Blade Contingent allows you to re-roll To Wound/Penetration roll against one single target. The final formation is the Armoured Interdiction Cadre. This requires 3 units of Hammerheads and 1 unit of TX78 Sky Ray Gunships. So a pretty a hefty points cost. But it is pretty good. Its is actually pretty simple.  Choose a point in the battlefield, and you can re-roll To Hit rolls against units that are within 6". So this makes those Railguns are the more accurate. Seems pretty good to me. A 12" bubble that you try to kill what you want with as much firepower as you can.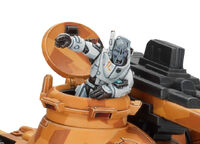 Longstrike
A unique upgrade to one model. Only one Hammerhead in the entire army can take him. He comes at a pretty hefty price tag too. But for that you get several unique rules. The first is Preffered Enemy(Astra Militarum). Not bad, but nothing to count on. The second is Tank Hunter. With a Railgun you have some fun with that, meaning your 1 shot isn't wasted. His tank also gets BS5, Can Overwatch infinitely and has Supporting Fire. Don't forget Tank hunter is conferred to the unit. This guy is pretty fun, but his tricks are not anything special, they just make him good at killing tanks.
ForgeWorld Turrets:
Forgeworld Hammerhead variants are the same point wise, but gain the following options. Note, these cannot be taken in formations and cannot take Longstrike.
Two Twin-Linked Missile Pods with Velocity Tracker:
These turn your tank into a dedicated AA unit. With 4 str7 ap4 shots, you will be pouring shots downrange extremely quickly. Problem is you have to stay still to fire both because you are not a fast vehicle.
Two Long Barreled Burst Cannons:
Now this turns your Hammerhead into a veritable horde killer. It throws down 12 str5 shots across the board. But again, you can't move. I would use this if I knew I was playing Orks. But it is mostly outclassed by Broadsides
Two Fusion Cannons:
These used to be cool, but now you can only move and fire one. Because they are basically Fusion Guns but with blasts, you cant even fire both. And because of its short range, you want to move. These really are a pass.
Two Plasma Cannons:
Great Infantry killers or Monstrous Creature killers. You really don't need to move this guy because of its long range. Putting out 4 str7 ap2 shots means you can put the hurt on Riptides easily. But make sure you set up in a decent position.
So, there you go, one of the coolest tau units you can have. Yeah they may be under utilized, but they can be fun and are pretty decent when used right IMO. Go have fun with them. And remember to share your comments below. As always Frontline Gaming sells Games Workshop product at up to 25% off, every day.