Howdy fellow wargamers, Mr.MoreTanks here to talk more about something that many 40k armies and army lists struggle to balance, anti-air. How much is enough? Too much? Is it better for some races to simply forget about it since their options can't cut it? What do you need to bring to make your AA worthwhile? I certainly don't pretend to have all the answers to these questions, but I think I've got some thoughts that could be useful to a few of my fellow nerds.
First of all let's look at what you need to worry about when you face fliers.   The two types you'll face, vehicles and monstrous creatures, are two very distinct and different threats that are taken down in very different strategies. Vehicles in 7th between hull points and a pretty resilient damage table, are fairly survivable.  If you're not bringing AP2 or better, you're going to have to drag down that vehicle kicking and screaming to the ground as the change to the immobilization results has on fliers makes them much less likely to crash and burn rolling on the damage chart.  So we need to look for low AP weapons that at least have a shot at taking down flying vehicles in one shot.
FMCs are perhaps in my personal experience the most frustrating unit to deal with.  Most players have that unit they look across the board and groan at, mine is the all too common dakka flyrant.  They are the whole package, but at least they aren't too cheap so I'll spare you my soapboxing.  Against these and other FMCs, we face a new issue, killing it through wounding it.  Bar a small list, its all but impossible to Instantly Kill FMCs.  That being said, we need to be able to pump out enough shots to knock these guys down.  The best armor out there for FMCs is 3+, so at first glance, we don't have the immediate need to bring low AP guns, especially with how FMCs interact with terrain.  Great, now we don't have to worry about expensive low AP weapons, we can bring other things. Right?  Nope, for FMCs, especially ones like Flyrants, we REALLY need to make those guys Jink, so we need to bring low AP high Strength weapons that will concern our opponents and make them more likely to Jink.  Jinking may save the flyer, BUT the fact that the flyer is now stuck snap firing, be it FMC or vehicle, could be the difference between your AA unit getting another turn to shoot or keeping another crucial unit of your alive.
Okay, so unlike the days of 6th where we could rely more on Quadguns and the like, we see that we are stuck relying on high Strength and low AP weapons.  Unfortunately, these weapons usually cost more and usually have less shots compared to other weapons, but we must adapt and adjust to our meta so take them we will.  Lascannons, lances, and meltas are your best bet, but krak missiles and the like can be enough to get by. Next comes perhaps the real difficult question for list construction, what platform will you use to supply your AA?  The biggest issue is how the rules regarding Sky Fire now work.  Units with Sky Fire are now stuck Snap Firing at non-flyer and non-skimmer units, and there is no other rule to make it so you can fire freely at full BS at whatever targets you wish.  Bummer dude.  That makes units dedicated to Sky Fire pretty limited to what they can contribute.  Armies containing no fliers or skimmers are surprisingly common now a days, despite how common Wave Serpents and Flyrants are.  Bringing units dedicated totally to Skyfire can be somewhat of a gamble in my opinion unless they are cheap enough to not take away from the rest of your options in an army list.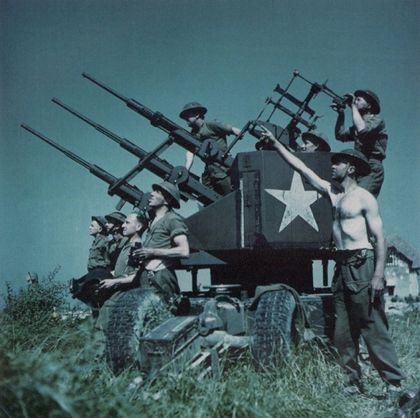 So what does that leave us with then?
Well the only other real option is to bring other flyers of either type.  Here, the Imperium has a significant advantage in my mind.  The Stormraven and Stormwolf are the bane of both other flyers and vehicles or other MCs on the ground.  They are expensive, but they can take a beating.  The major downside though, is that it is almost impossible unless you place objectives carefully on higher terrain pieces, for flyers to grab terrain, and that's only even an option if the vehicles can switch to hover mode and FMCs to gliding, making them VERY vulnerable.  Flyres that can never hover or glide are points that will never be able to get you an objective, and that can be an issue significant enough to make their inclusion in an army worth reconsidering.  Missions are most often the way to win your games, and with the change to how the Secondary is scored in ITC missions making them equal in worth to the Primary, getting objectives has never mattered more.
At the end of the day, I take the approach to air as I do to the psychic phase, go big or go home.  With my Guard I bring Sabers and Vendettas, and with my Marines, I bring nothing but snap fire and a prayer.  Is it the best?  Certainly not, but you're reading my article so I get to stand on the soapbox and pretend that my ideas about little toy soldiers is better than yours.
What do you bring, if anything, to deal with flyers?  Are they something you think about in your list construction?  Maybe just FMCs?  Let us know below! (So I can steal your ideas.)