I've been super distracted/unmotivated the past month and a half and am starring down the same deadline a lot of us are. In exactly four weeks I need to be in my car headed south to Vegas packing a complete army and bad intentions. I'm skipping all the WIP nonsense as to not get distracted and am just going to post the units I need to finish.
1. Build and paint one Rhino (cracking open the box tonight)
2. Make 20 infantry bases
3. Build and paint one Helldrake (boooooo, I know, shut up!), ordered yesterday
4. Build and paint one Lord of Change, ordered yesterday
5. Make my second display board (can't start untill I finish building everything).
That's a very small list, but it's more than I have ever done in a month so I need the extra motivation of posting my COMPLETED models.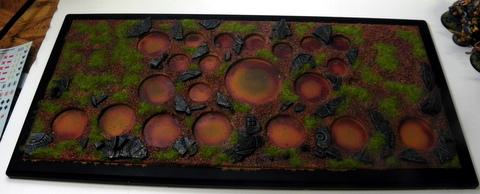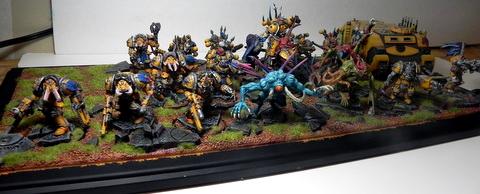 So what if my first pictures are breaking the rules by not being finished! Just showing my first of two magnetized Tablewar display boards. Still needs the black stones to be highlighted and the paint bleed to be painted black but you get the idea.
Wish me luck!
_________________
The Emperor cannot solve your problem, the Emperor is your problem!