First of a Big Thanks to Reece Frankie and crew. They have pulled off another great tournament. Super fun, well organized. Great venue.
This years BAO was the 4th GT that I have attended, Two Golden Thrones, and the LVO. Additionally, I attended last years BAO, playing in the Narrative game at that one. Going into this years BAO I was still a bit nervous as I have not gotten in as many games of 7th as I would have liked. I figured a lot of folks would be in the same boat. Besides, playing in a tournament is good practice, and a great way to make sure you are getting the new rules down.
Knowing that winning the tournament is still a bit beyond my skill level. I decided to take a shot at best Dark Angels player. I pretty much play with some mix of Dark Angels and White Scars whenever I play. So if nothing else these are the units that I am most familiar with. I had considered bringing a knight ally, and decided against it as I had only fielded my knight a couple times.
Here is the list I settled on:
Primary: Dark Angels
HQ
Interrogator-Chaplain: Space Marine bike [Warlord]
Techmarine: Space Marine bike; power field generator; auspex
5 RaveKnightslack Knighst: 4× plasma talon; Ravenwing grenade lCorvusr; 5× corvus hammer; Ravenwing Apothecary
Troops
10 Tactical Space Marines: meltagun; multi-melta;
• Drop Pod
10 Tactical Space Marines: flamer; missile launcher;
• Drop Pod
Allies: White Scars Space Marines
Space Marine Chapter Master: The Shield Eternal; power fist; artificer armour; Space Marine bike
Troops
8 Bikers: 2× grav gun; + 1 Attack Bike (multi-melta)
8 Bikers: 2× grav gun; + 1 Attack Bike (multi-melta)
Fast Attack
8 Bikers: 2× meltagun; + 1 Attack Bike (multi-melta)
I normally run a librarian, and made a last minute (literally Saturday morning) decision to swap in the Interrogator Chaplain as my Warlord. What a great call, not only did he not die even once. He was a beast in combat, and unlike the librarian his buffs (Fearless, Hatred, Preferred Enemy: Space Chaos Space Marines) are guaranteed and cannot be denied.
The Calm before the Storm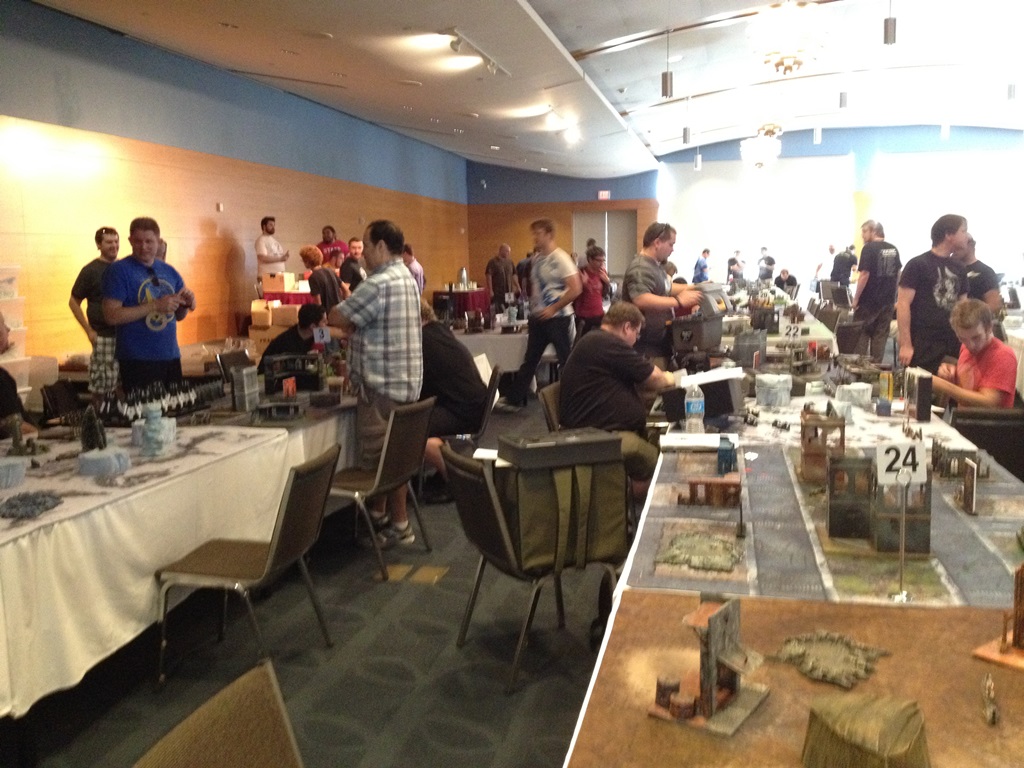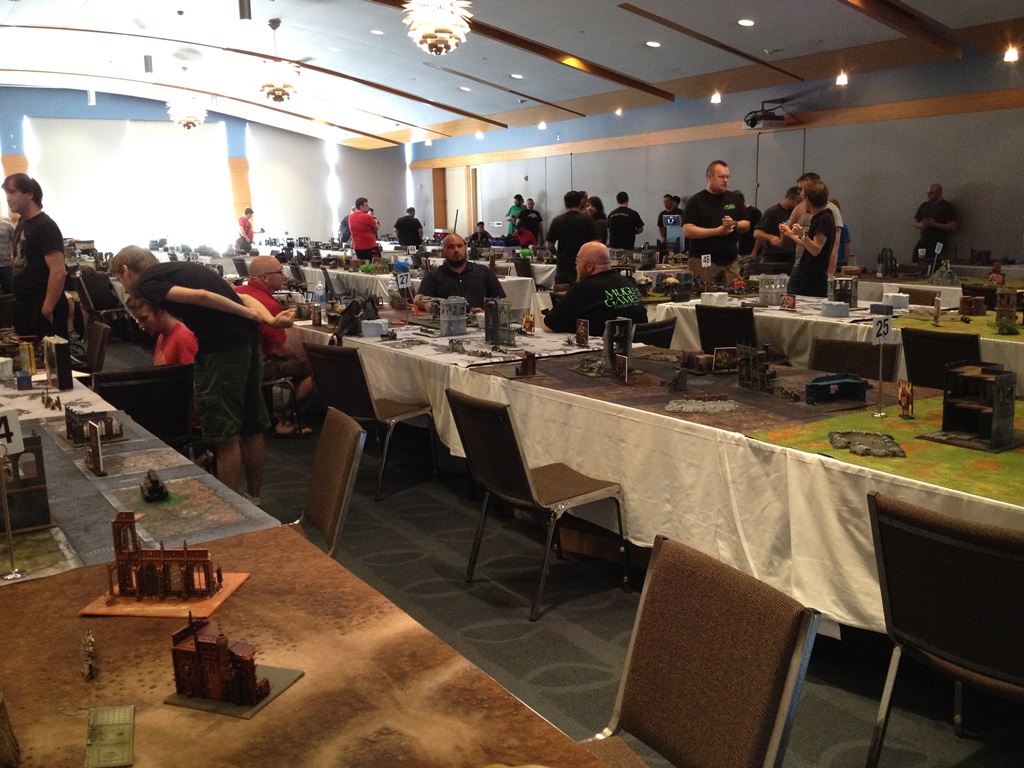 Game One Synopsis:
Table 30: John Feuerhelm 1009-1 Mathew Ludwick
Mat was playing Slannesh Chaos Space Marines with Daemon Allies, summoning factory. This was his first Tournament. A real nice guy, and a very fun game.
Noise Marines, a Drake, Flying Daemon Prince, he had the tools to put a hurt on my Army. With all those threats, I knew I had to play this one very aggressively. The melta made short work of his Soul Grinder and Mauler fiend. from there I drove in hard at the core of his army, letting the drake and prince get behind me. Once his back field collapsed it was game. The summoned daemons just never really became much of a factor. Final score was 9-1
Game One Pics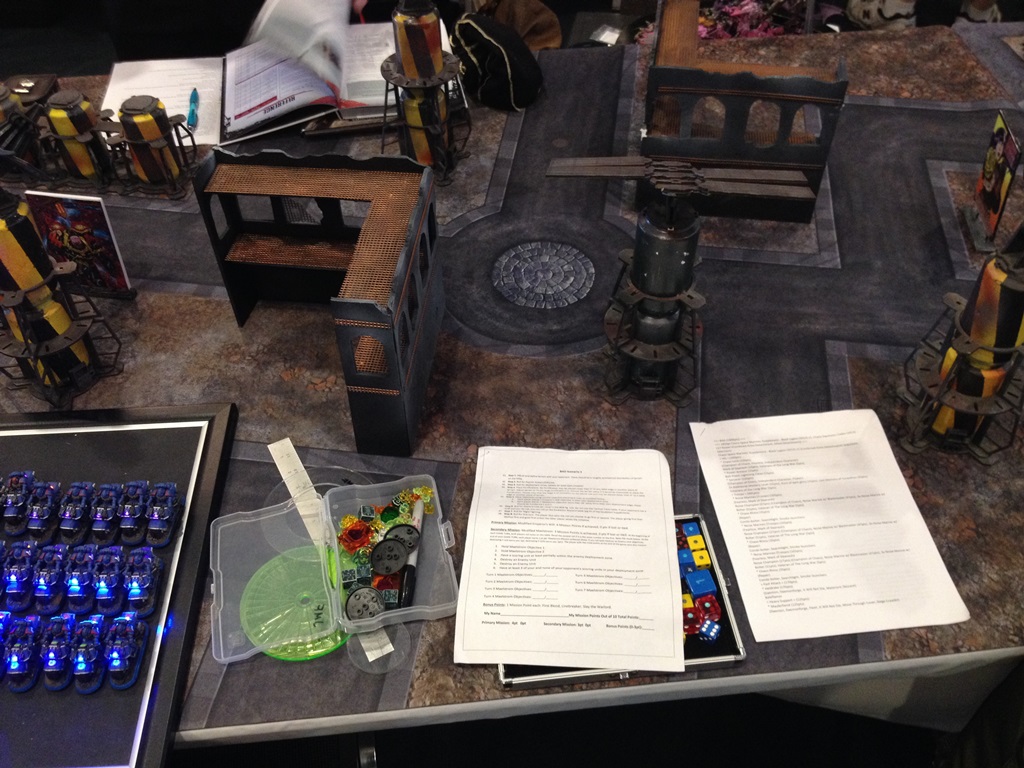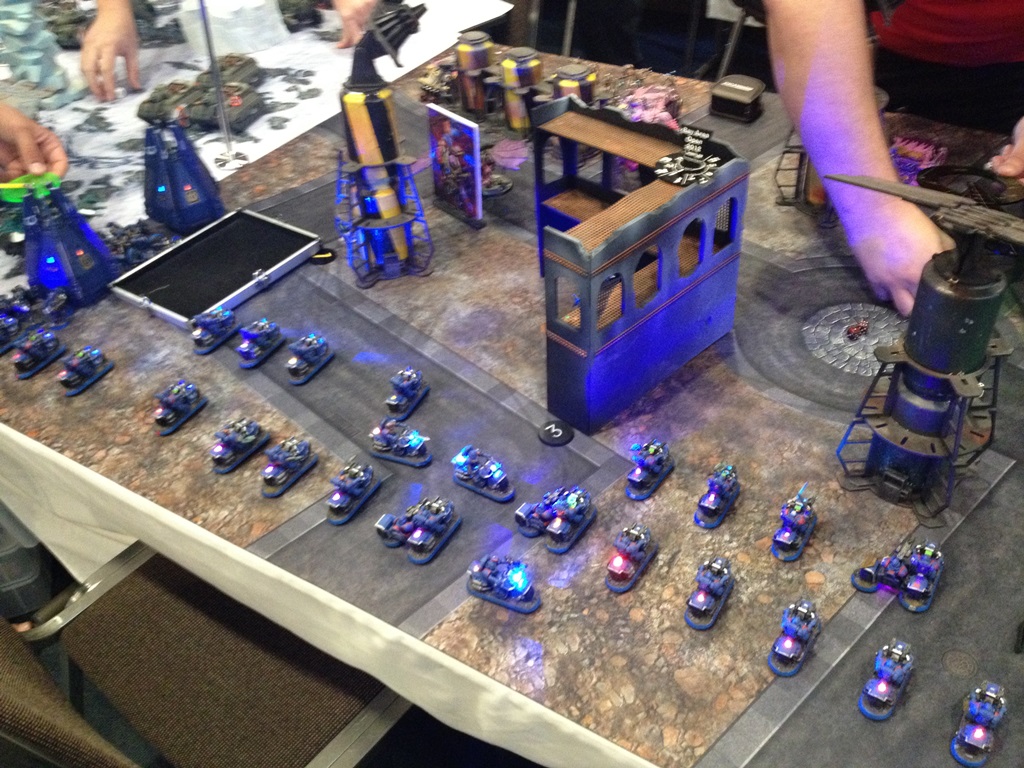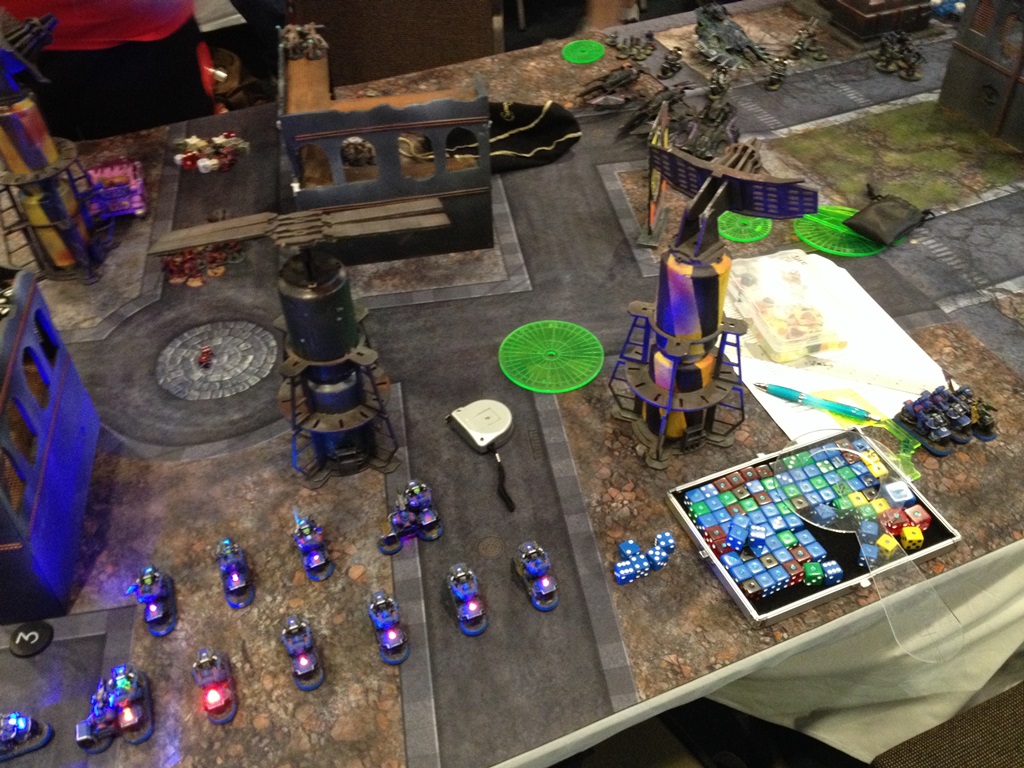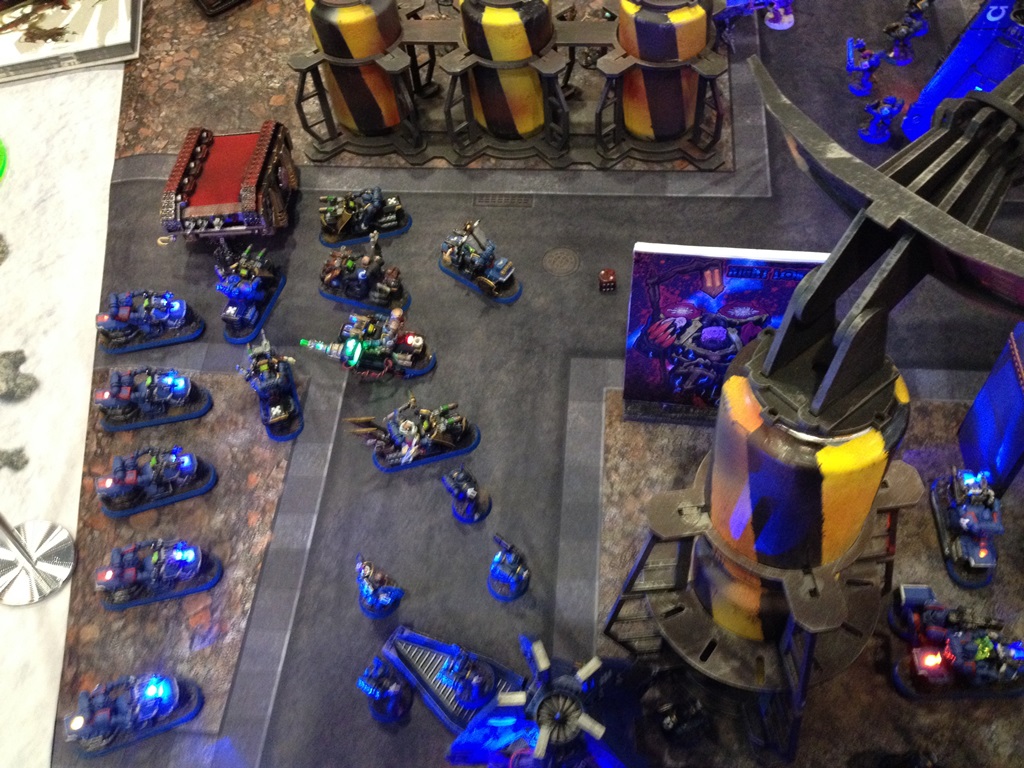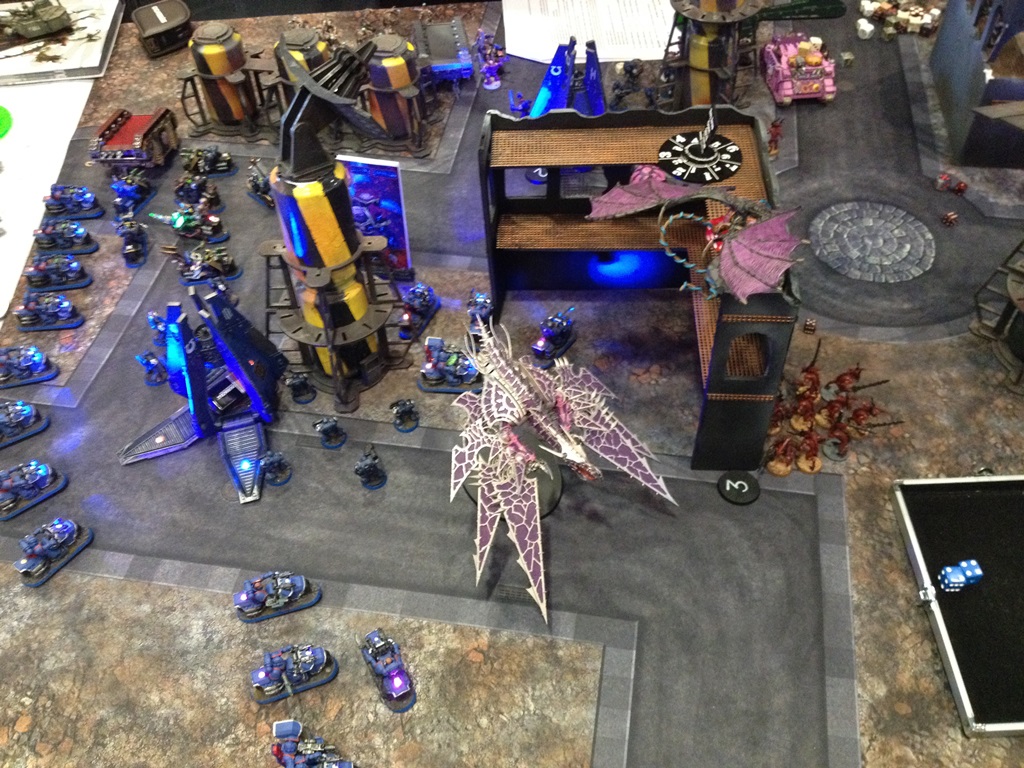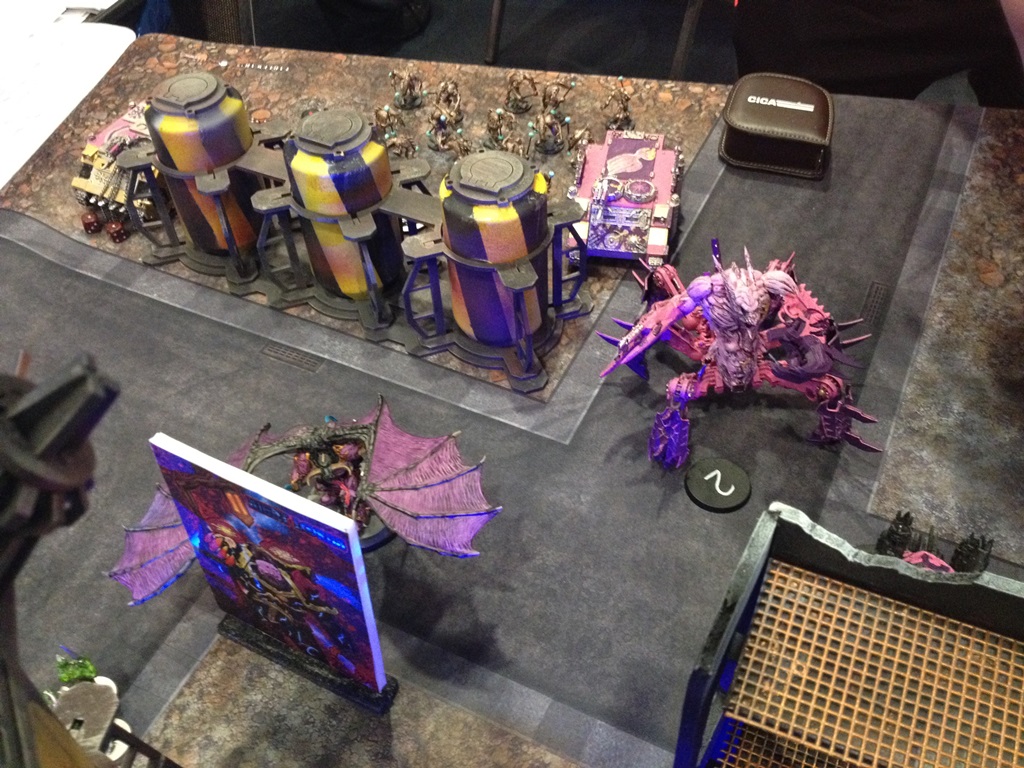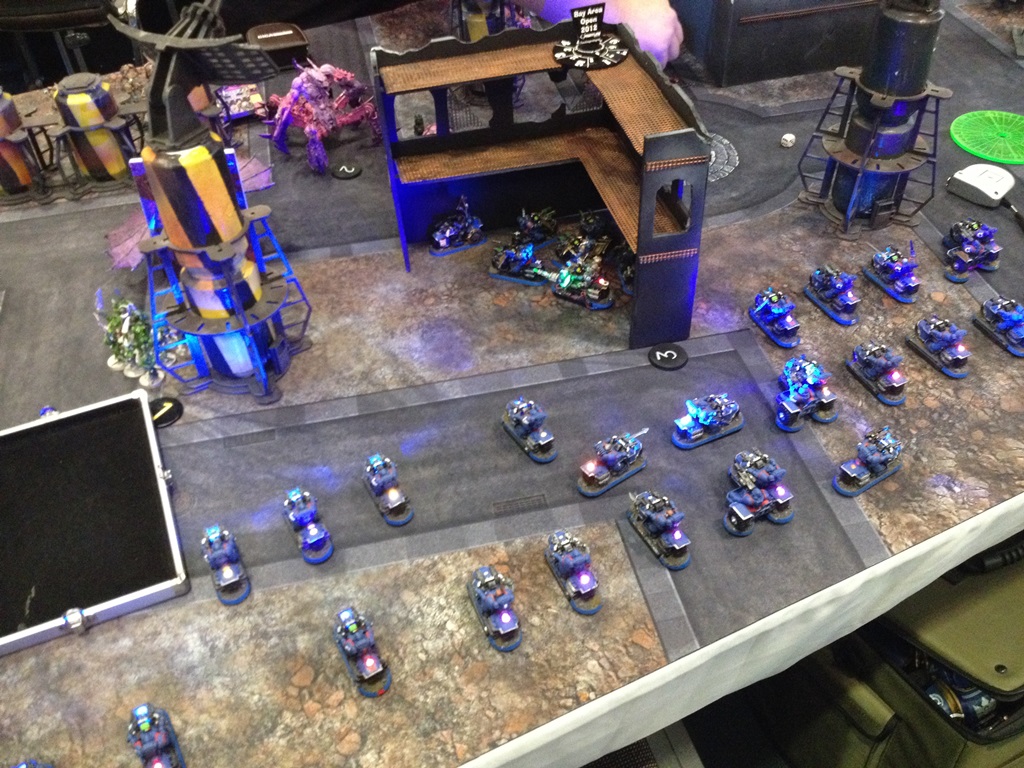 Game Two Synopsis:
Table 13: John Feuerhelm 4-1006 Micahel Snider
Round two was a slug fest vs Micahel's Necrons. Overlord in a Command Barge, 2 Lords, an Overlord, 3 loaded Night Scythes, 2 loaded Ghost Arks, 3 Annihilation Barges. This was his first tournament as well. Micahel is a real solid player, and he knew his army well. I made two huge errors in deployment, and thsquaddingy much cost me the game. The first mistake was combat squading in a kill point mission. The second was reserving my command squad. I should have castled up, and focused everything on one unit at a time. Instead I was all over the place and he was able to pic me apart. Despite that I won secondary. Final score was 4-6.
Game Two Pics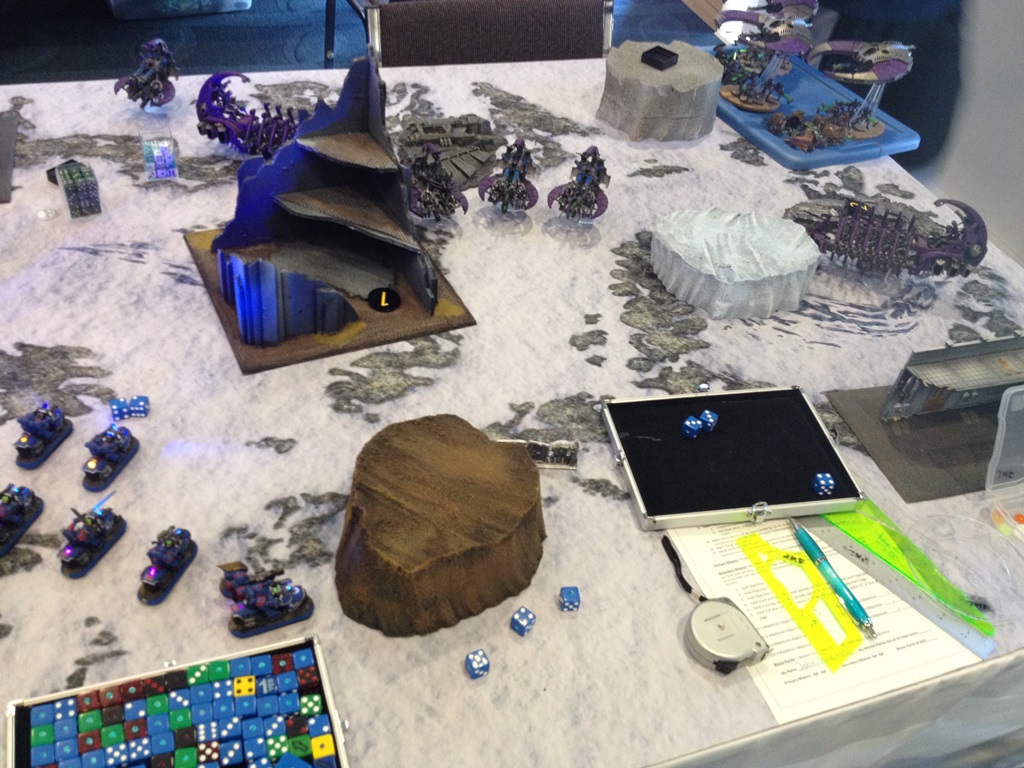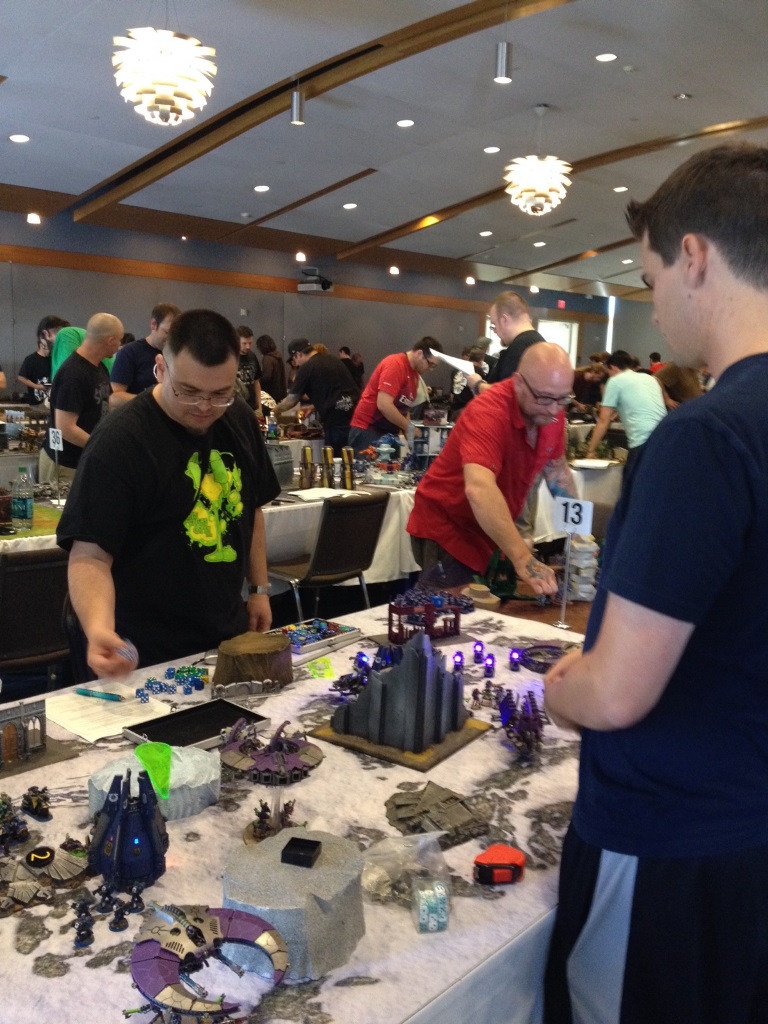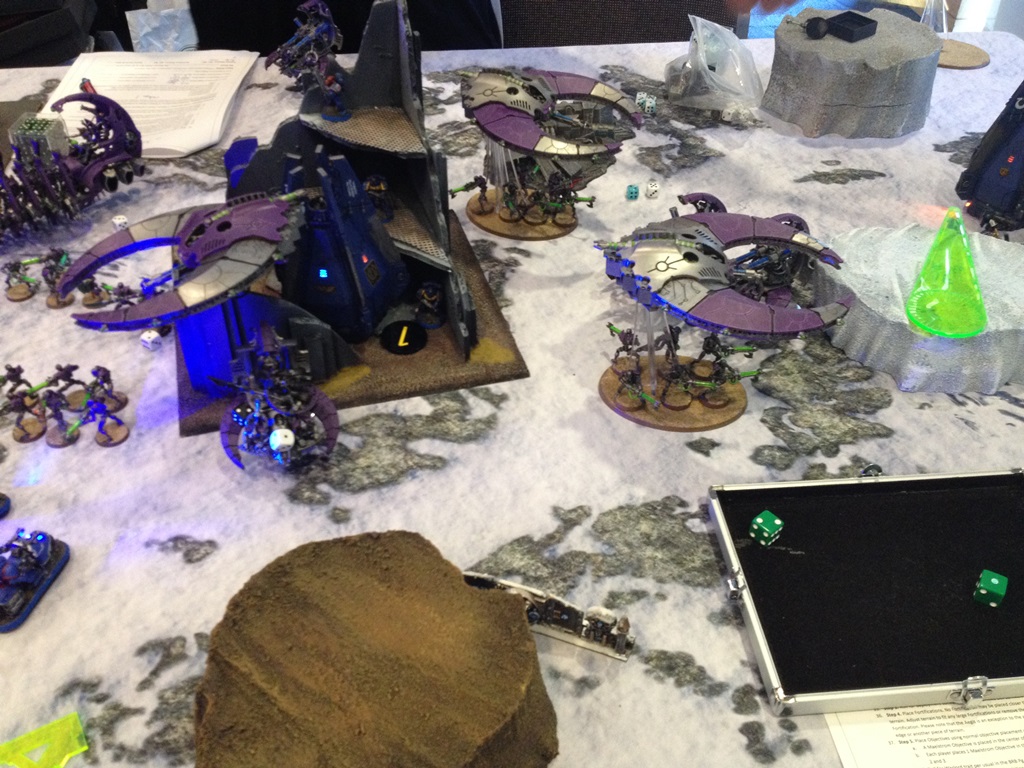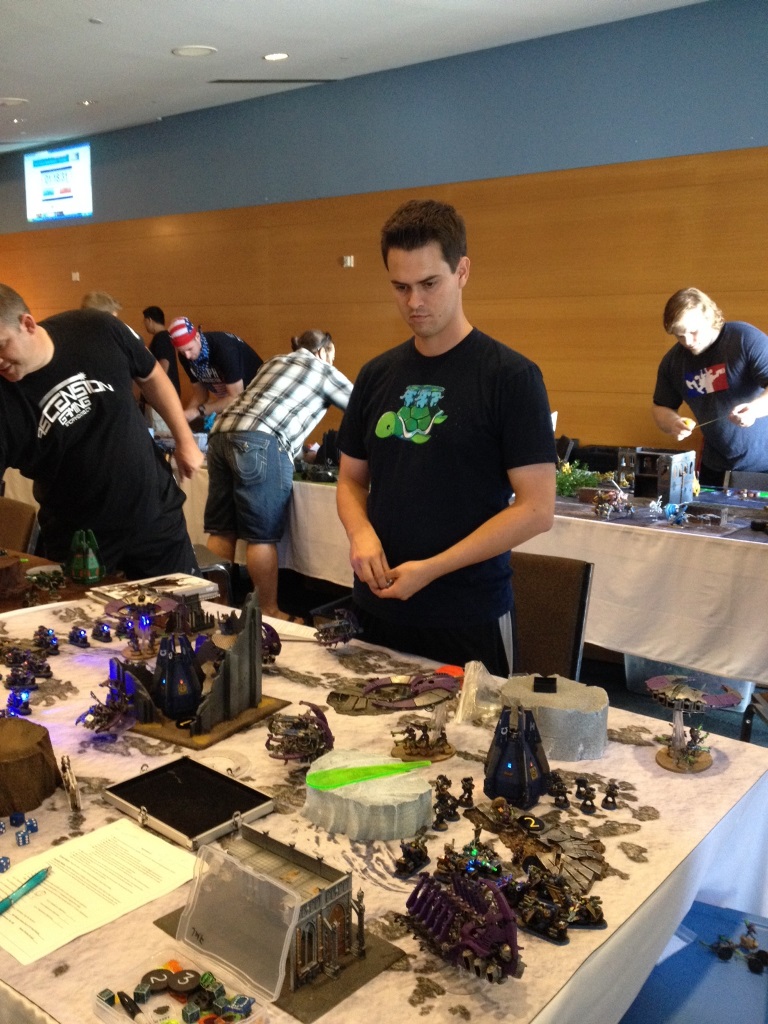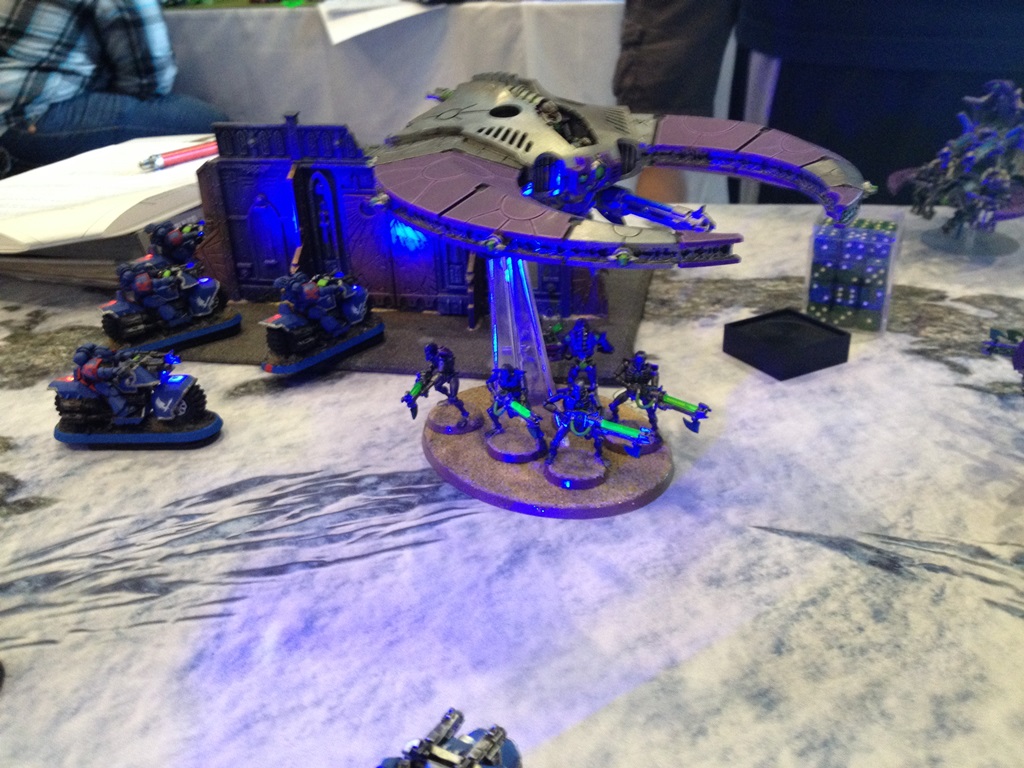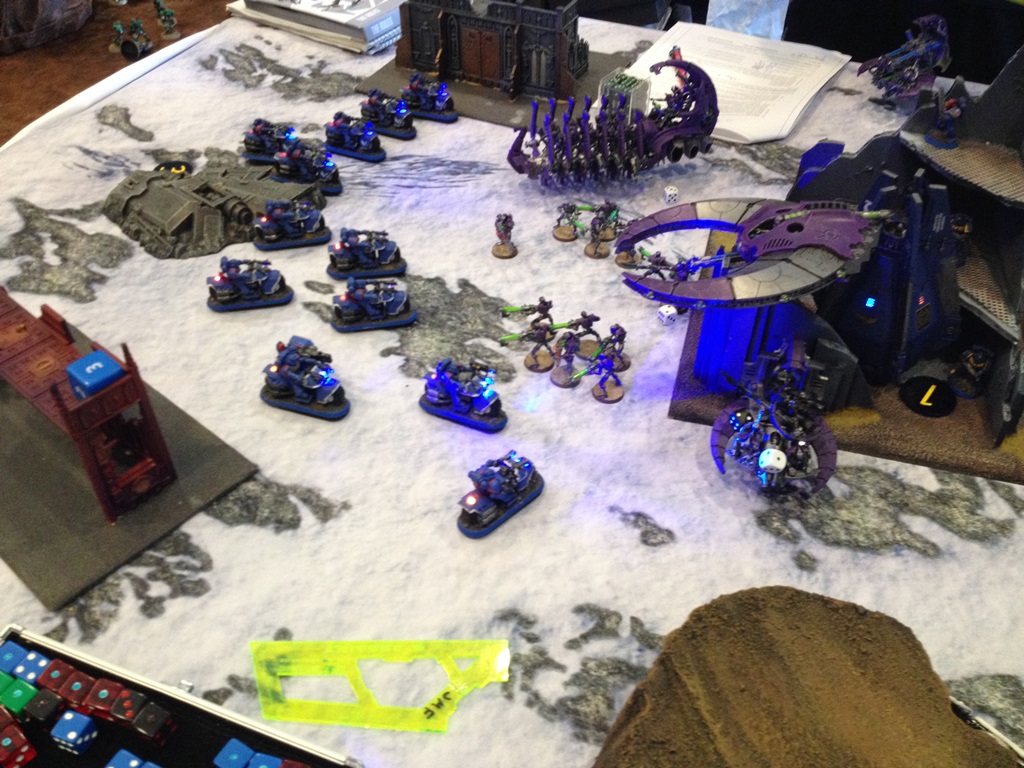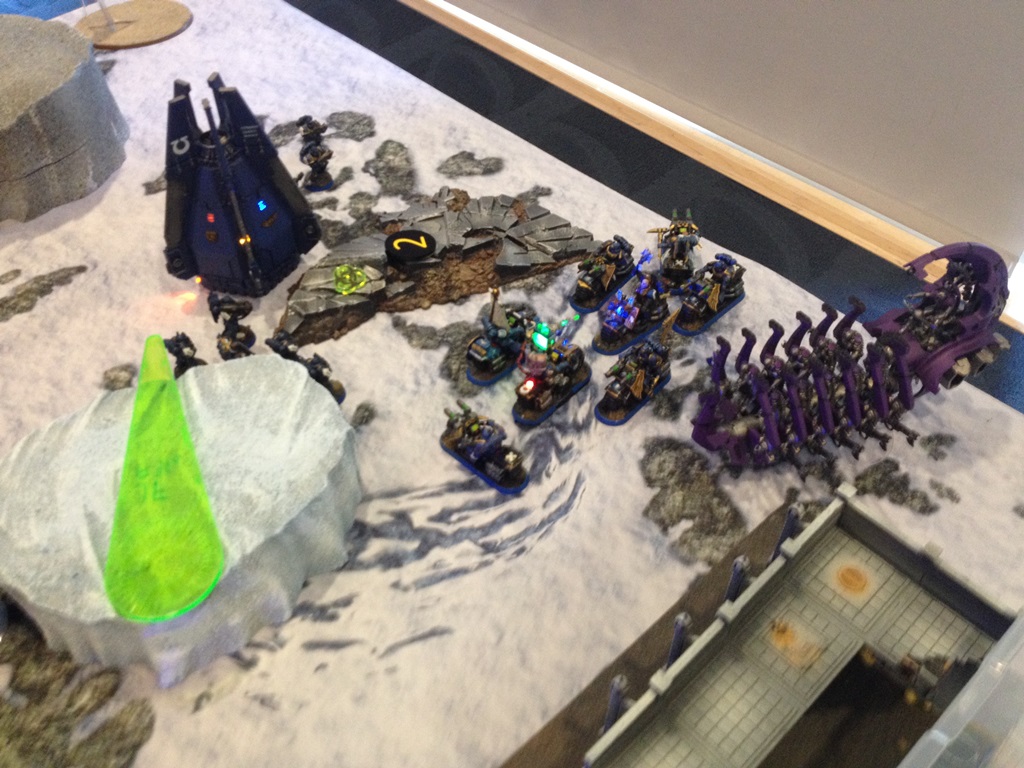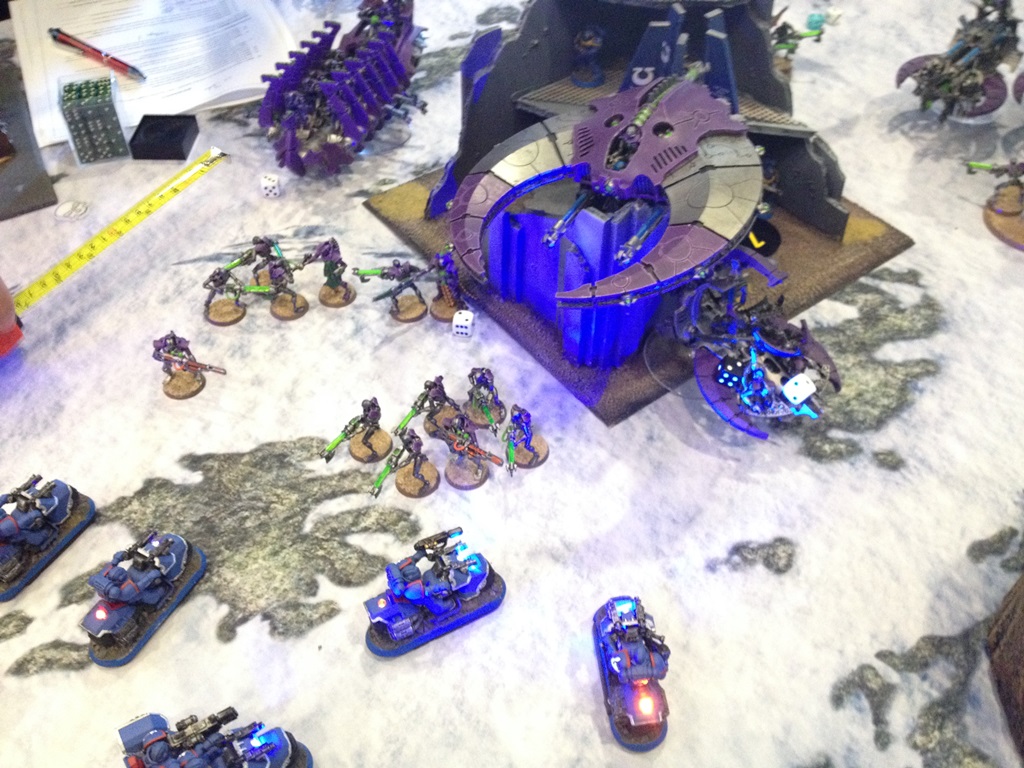 Game Three Synopsis:
Table 18: Richard Smith 1-1010 John Feuerhelm
Another real nice guy. Dick was running a space marine list. Tigurius with 3 Centurions, yes he got invisibility on the unit... nasty stuff. He also had 5 tac squads, 4 with Drop Pods. Two thunderfire cannons. And White scar allies with a Chapter Master on a bike and a Storm raven. The mission was the relic. He started dropping pods near the relic while moving his bikes forward. I sent my pods into his back field to take care of the thunderfires and provide distraction. Then I drove all my bikes at the center. We had a class of command squads in the middle. He was not ready for the onslaught the Black Knights bring to the assault phase. Plus, the Interrogator Chaplain started to show his strength. He is a beast in combat and rerolling ones in the first round of combat was clinch. A fun game vs another cool Opponent.
Game Three Pics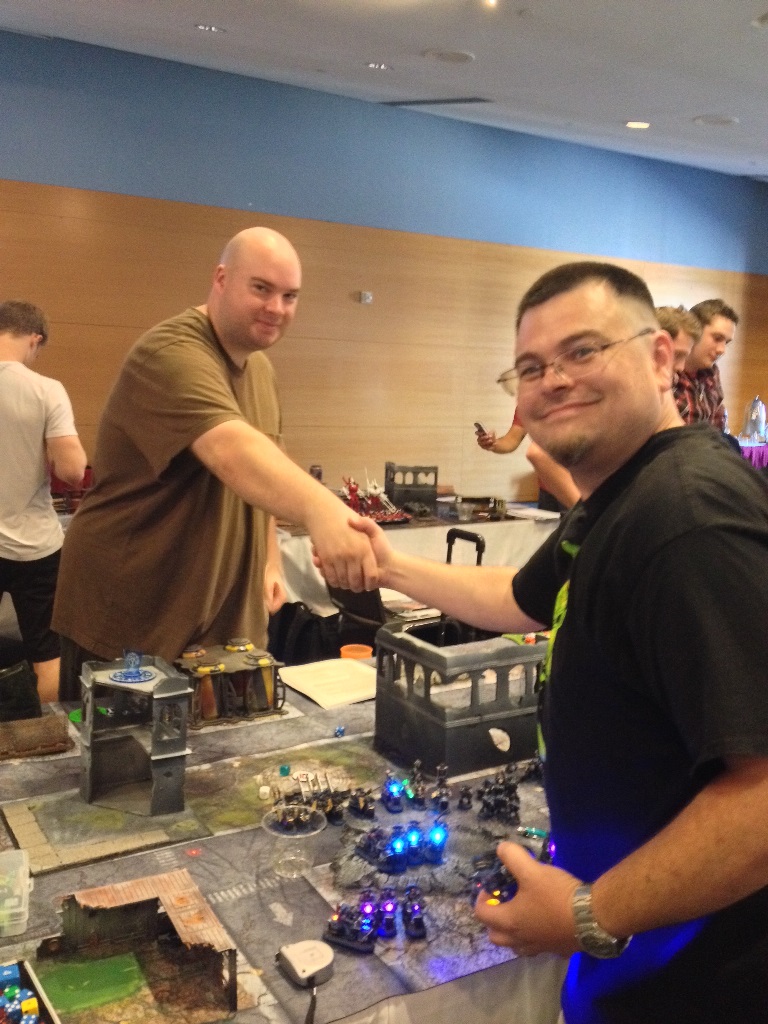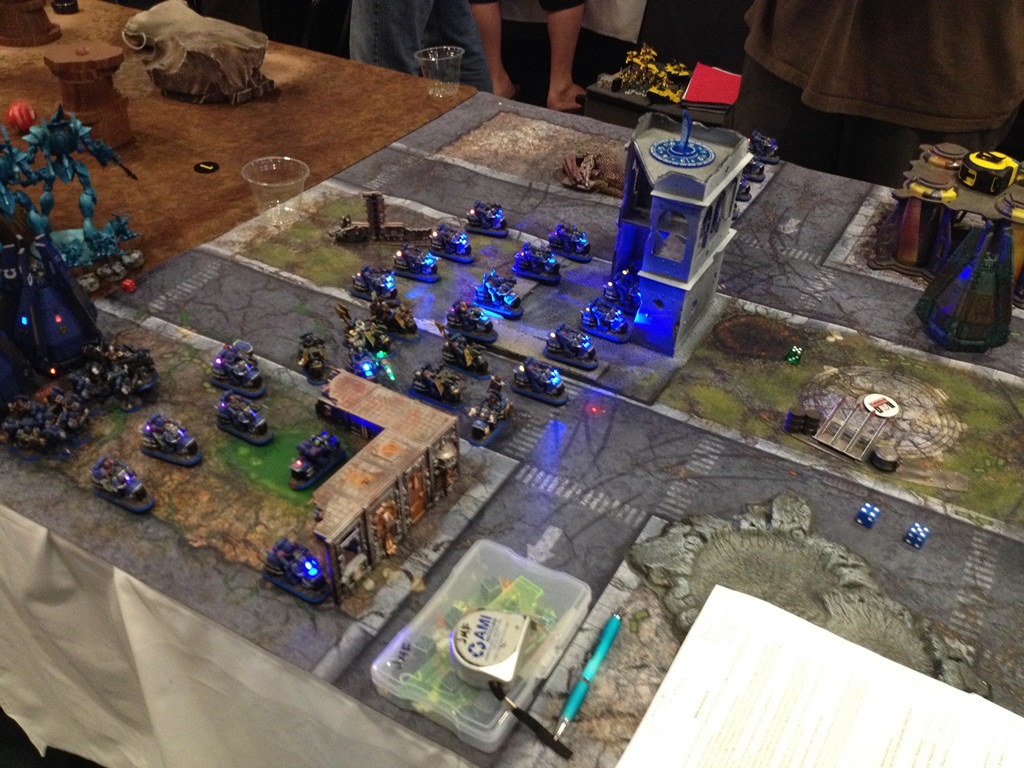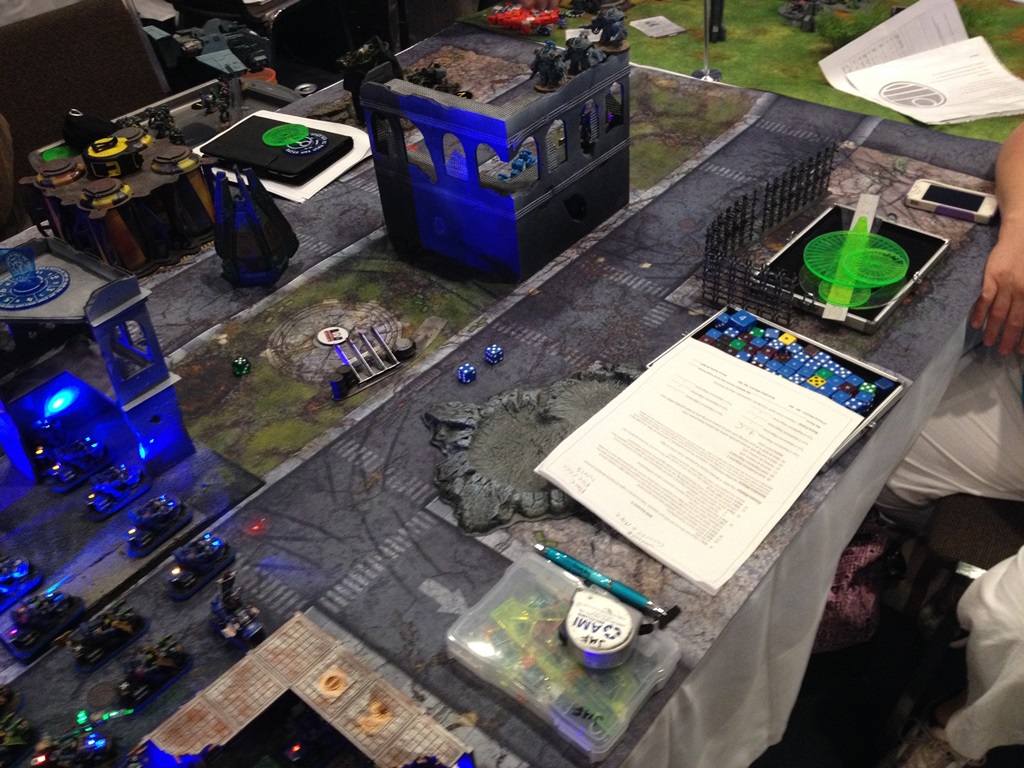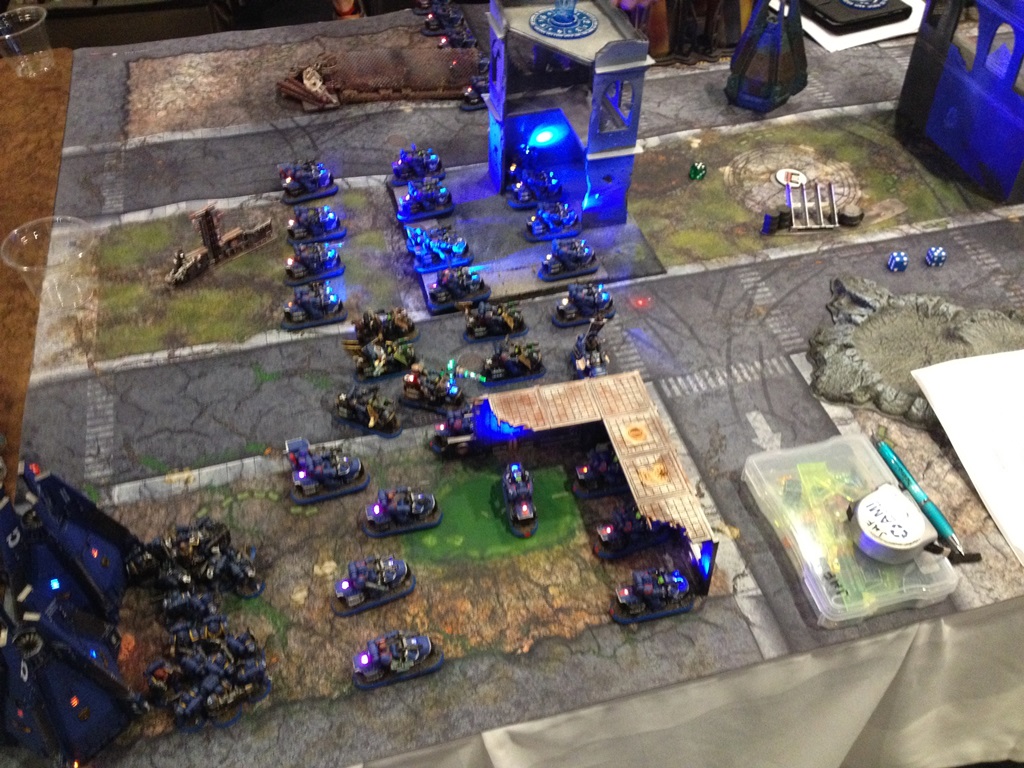 Day Two Pics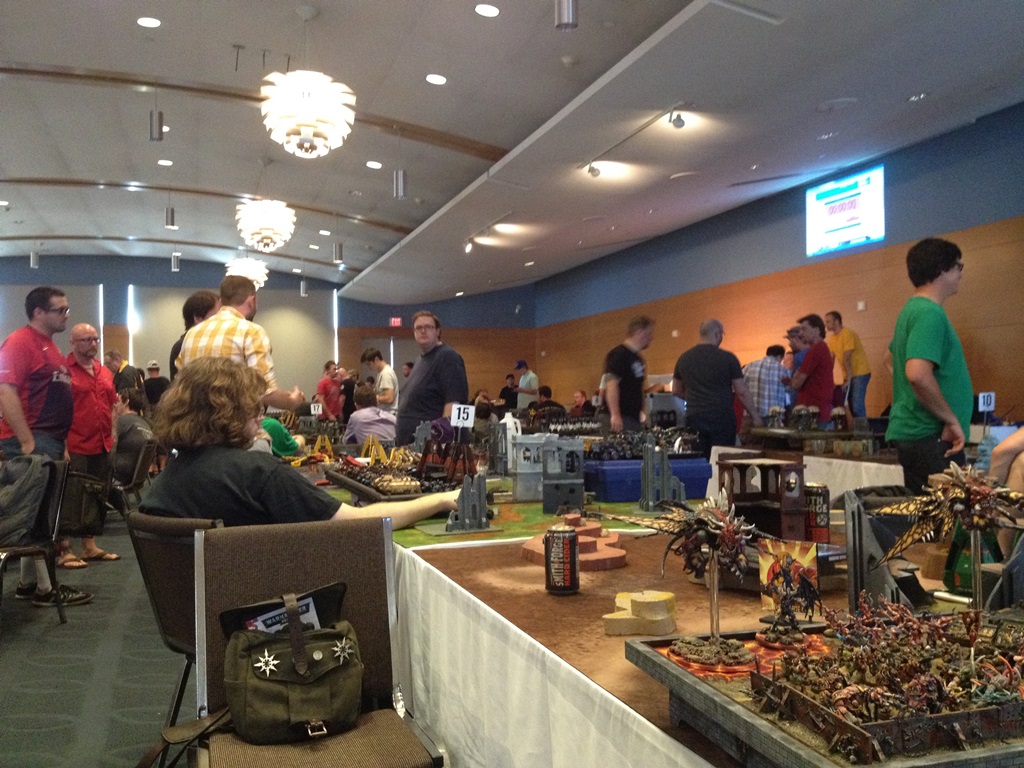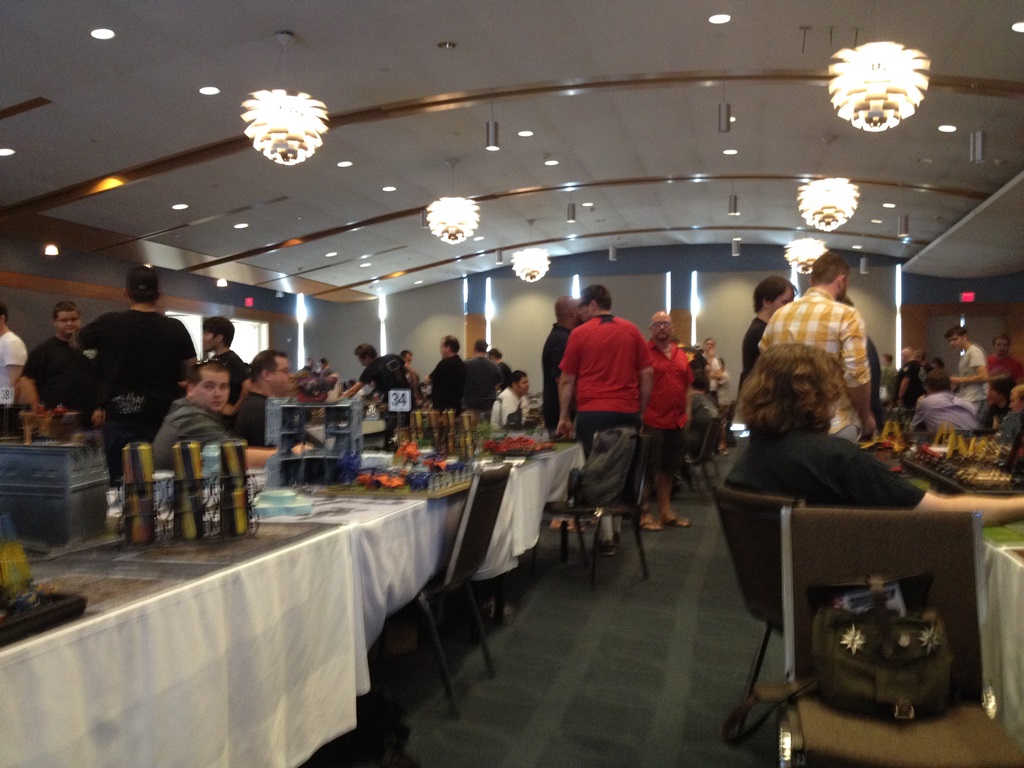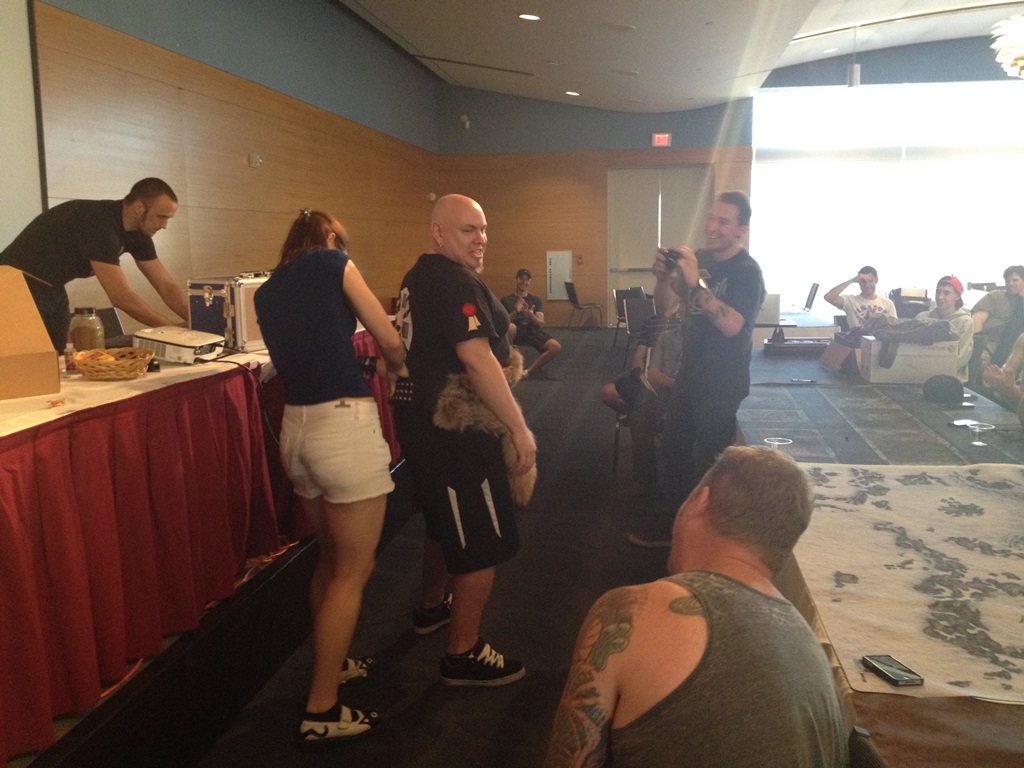 Game Four Synopsis:
Table 8: Ryan Murphy 1009-0 John Feuerhelm
We were joking with Reece that he must hate Dark Angels because the top two DA players had to face each other. I had played vs Ryan before, and knew that he was a solid and skilled opponent. Plus, he had two land raiders with a powerfield, and 3 Knights!! Knights backs by a Land raider powerfield is a trick that I had used before, and knew that it could be pretty nasty. I think Torrent of Fire worked against me on this one. Having all night to sweat over this game, I psyched myself out. What I should have done was reserved my entire army. Brought my first pod in behind a huge LOS blocking building. Then as my units came in from reserves turboed them all over the board. Using my speed to stay at range then gone for a last round objective grab. Instead, by charging everything at the knights, I just got stomped. Still, Ryan is a cool opponent and it was fun to play him again. Final score 0 to 9
Game Four Pics: Just one that my Wife took. I was too focused on the game.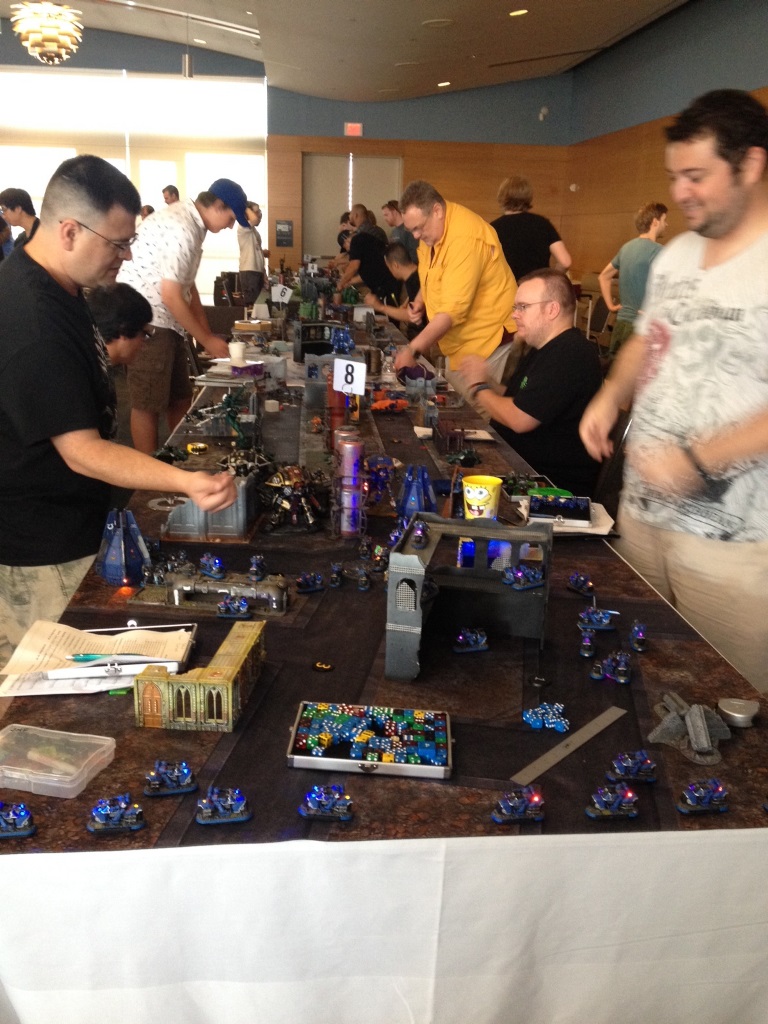 Game Five Synopsis:
Table 23: John Feuerhelm 1009-1 Nathaniel Emond
Nate was rocking a nice Clan Raukaan force with lots of forgeworld, Relic scorpius x2. Thunderfire cannon, Hyperios battery. He also had Inquisition allies with Coteaz and a Valkyrie. He brought two bike squads, using the forgeworld jet bikes as counts as bike squads. It was the first time I saw these models in person, and they looked awesome.
Once again it was my Command squad vs his Chapter Masters squad in the middle. The Chaplain and the Black Knights made short work of his bikes and I used Hit and Run to grab or contest every objective on the last turn. This is a game that I wish he had had more time, it would have been interesting to play it out. I think I would have still pulled it off, but you never know.
Game Five Pics
I wish I had taken more pics. Nate had a very cool army.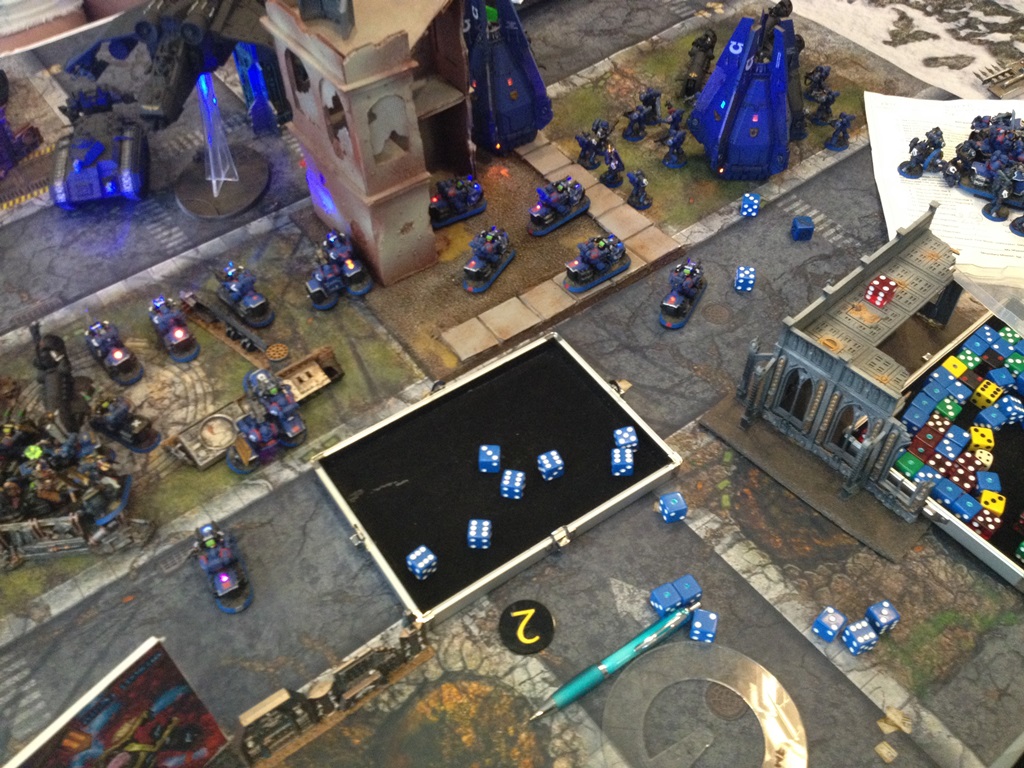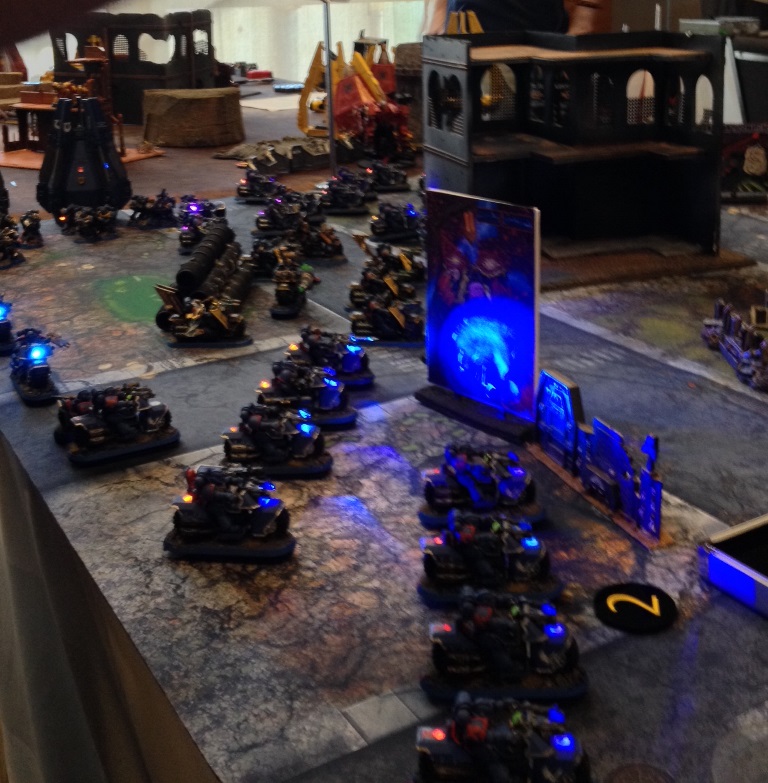 Game Six Synopsis:
Table 14: Garye Lawrence 2-1010 John Feuerhelm
Last game, and everyone was getting tired. Gary had another nasty clan Raukaan list. 3 Land Raider Achilles, Dreadnought, Master of the Forge in one. Then a full bike squad with beat stick Raukaan Chapter Master. He also had a Venerable Dreadnaught in a pod. I focused my grav on the land raiders and immobilized two early on. From there he decided to multi assault a bike squad and a tactical squad with his awesomely converted bikes. This strung him out and let me hit the middle of his line with my command squad. One again, the chaplain did some work. I then did multiple hit and runs till all the bikes were gone. Garye is the kind of guy who makes going to the tournaments fun. He offered me a water and soda at the beginning of the game. Then at about half way be busted out jello shots for everyone at the surrounding tables. This certainly made my wife happy.
Super fun, and I look forward to our next game when we are both a little less tired. Final Score 10 to 2.
Game Six Pics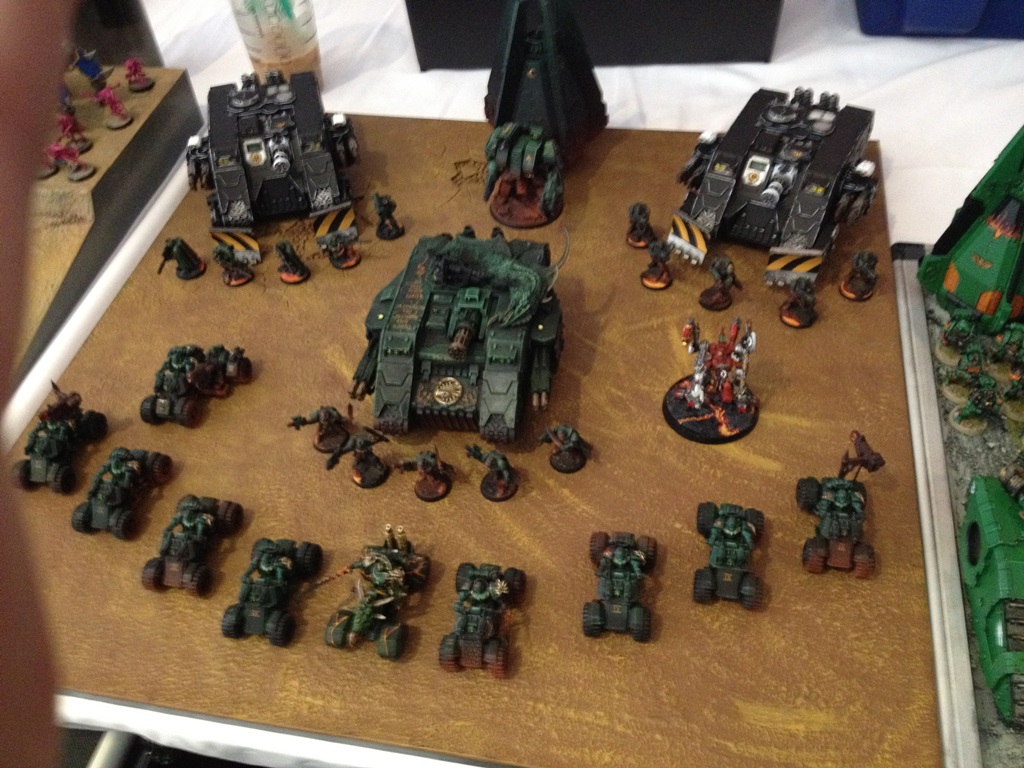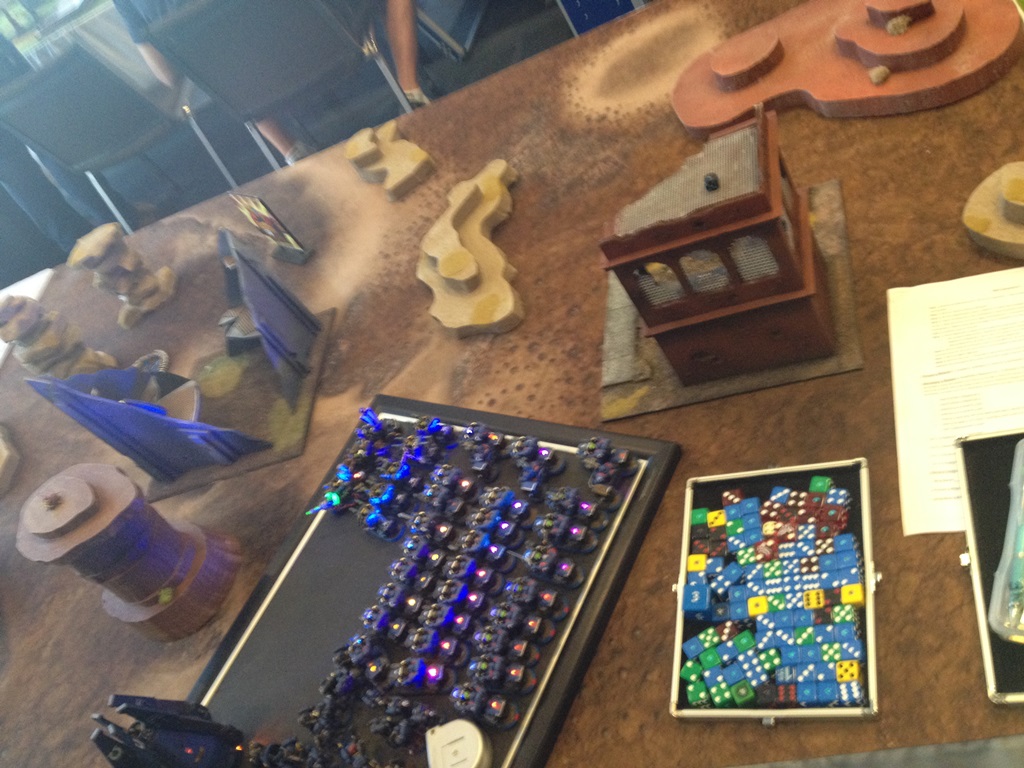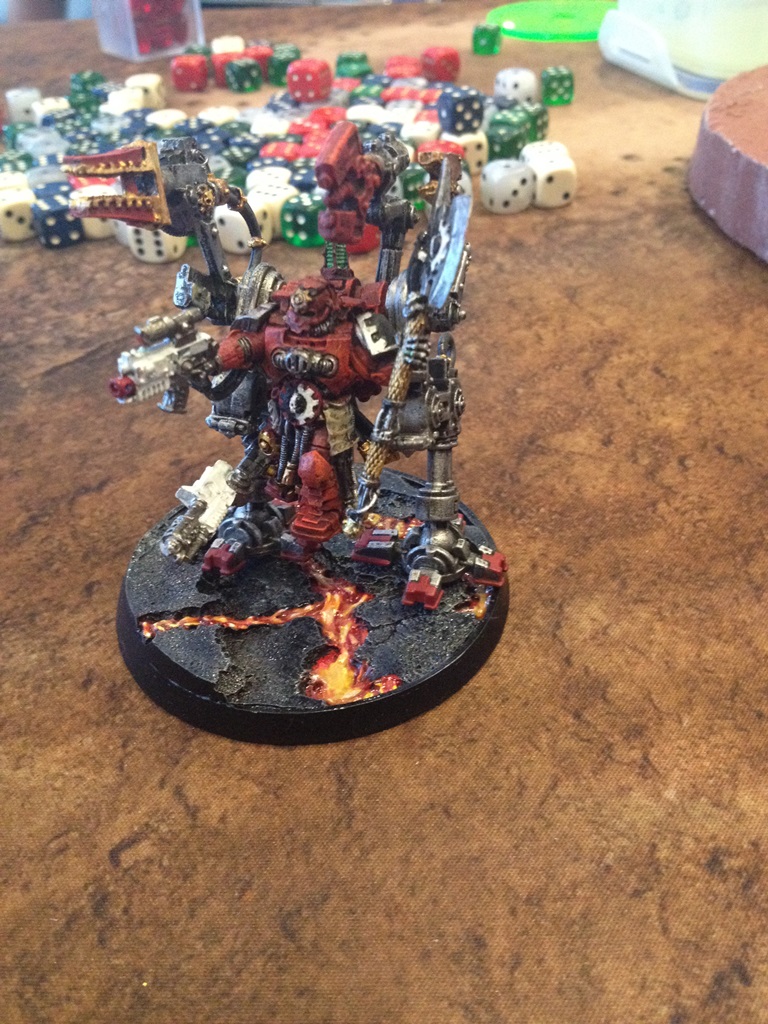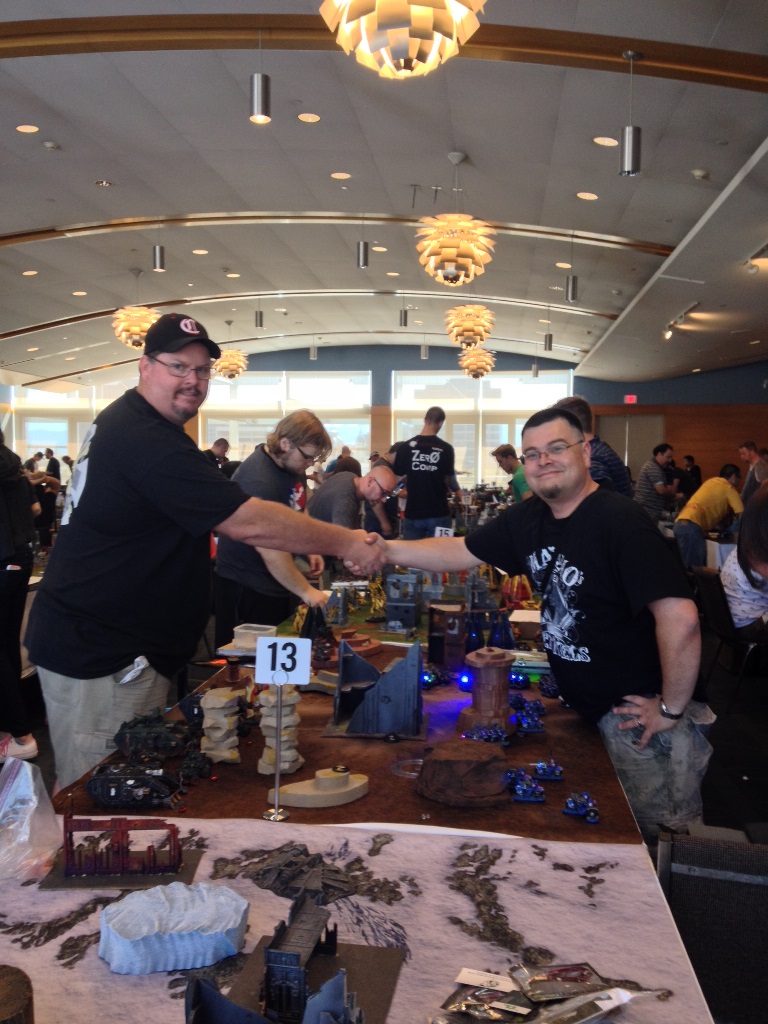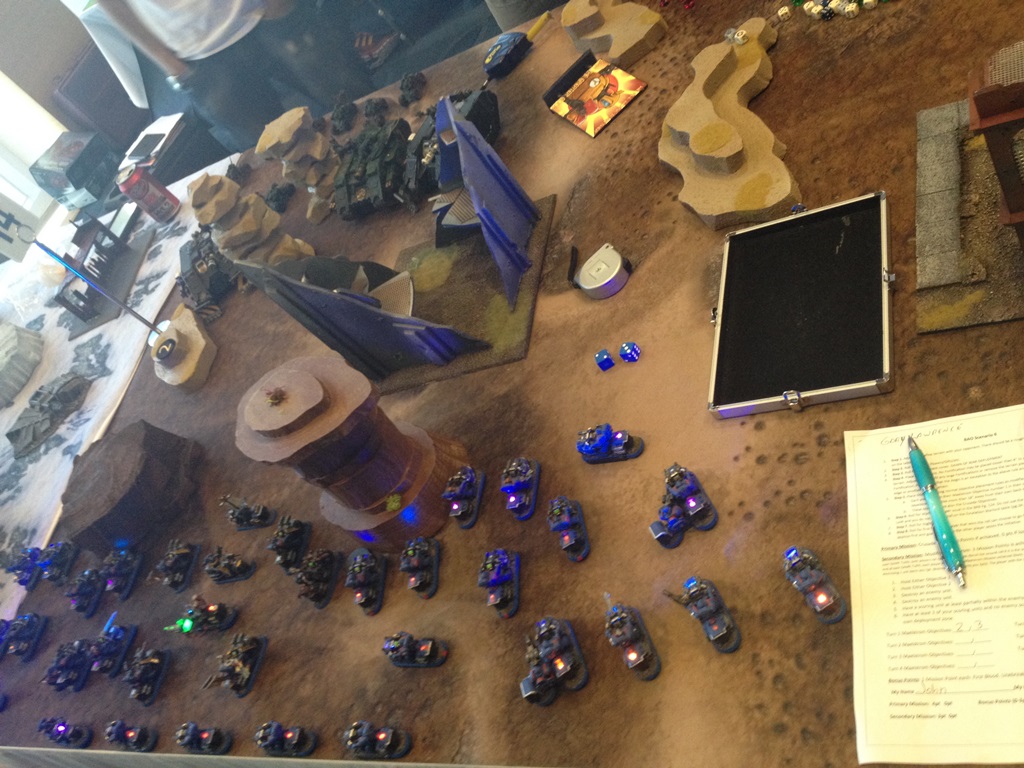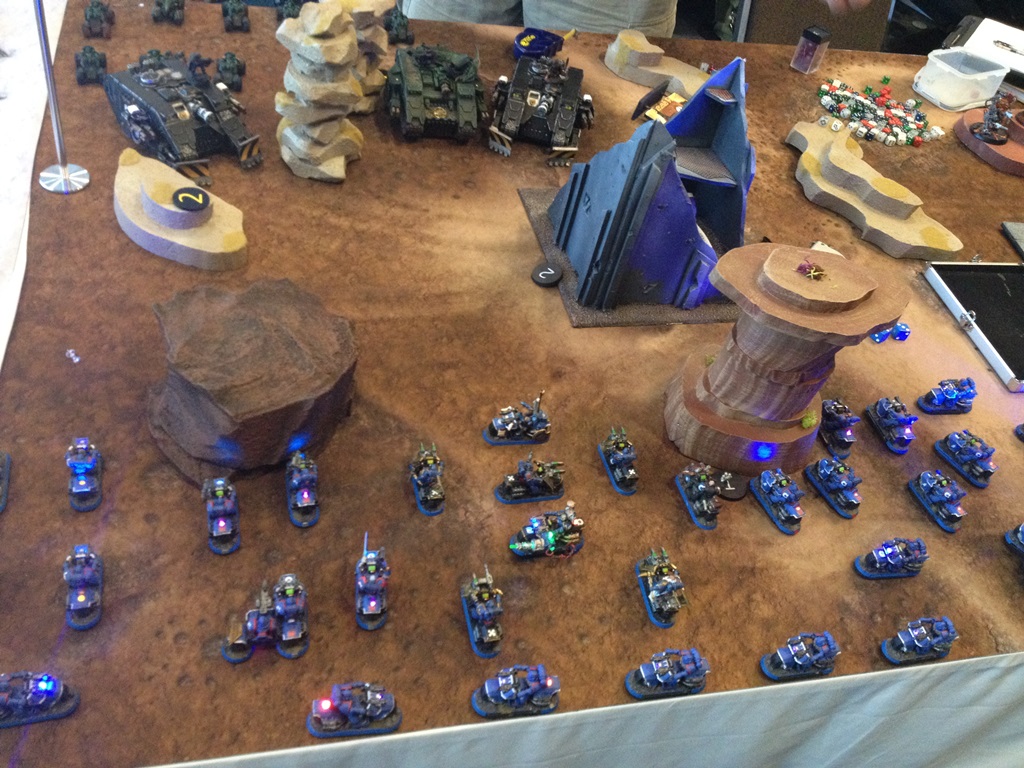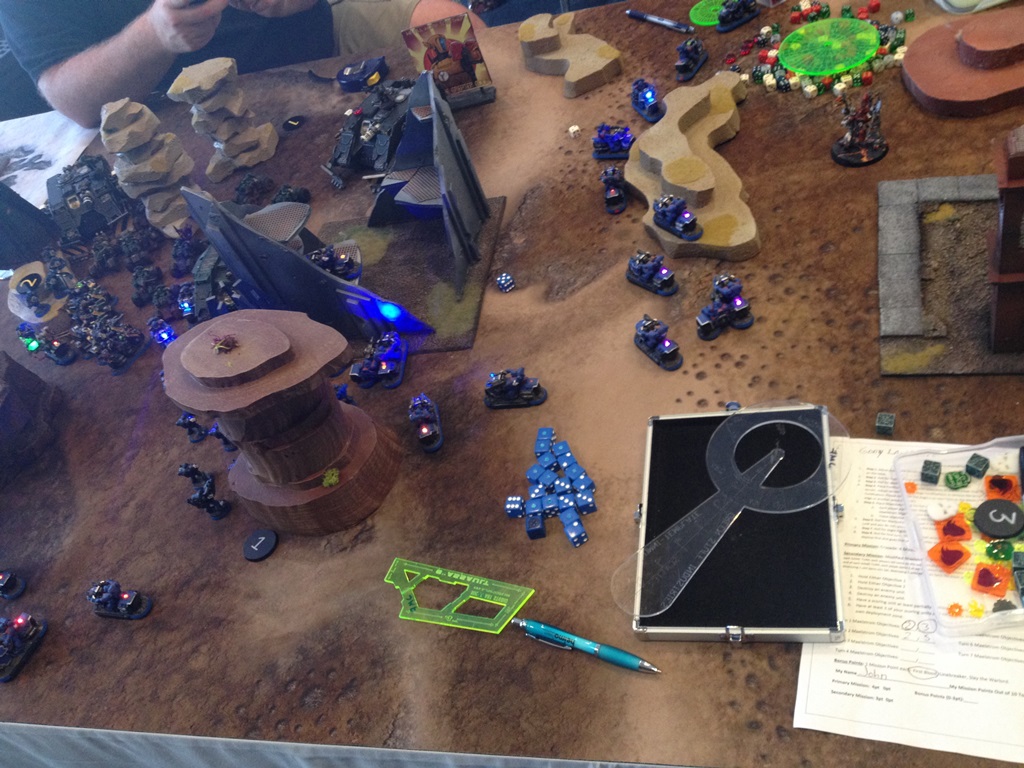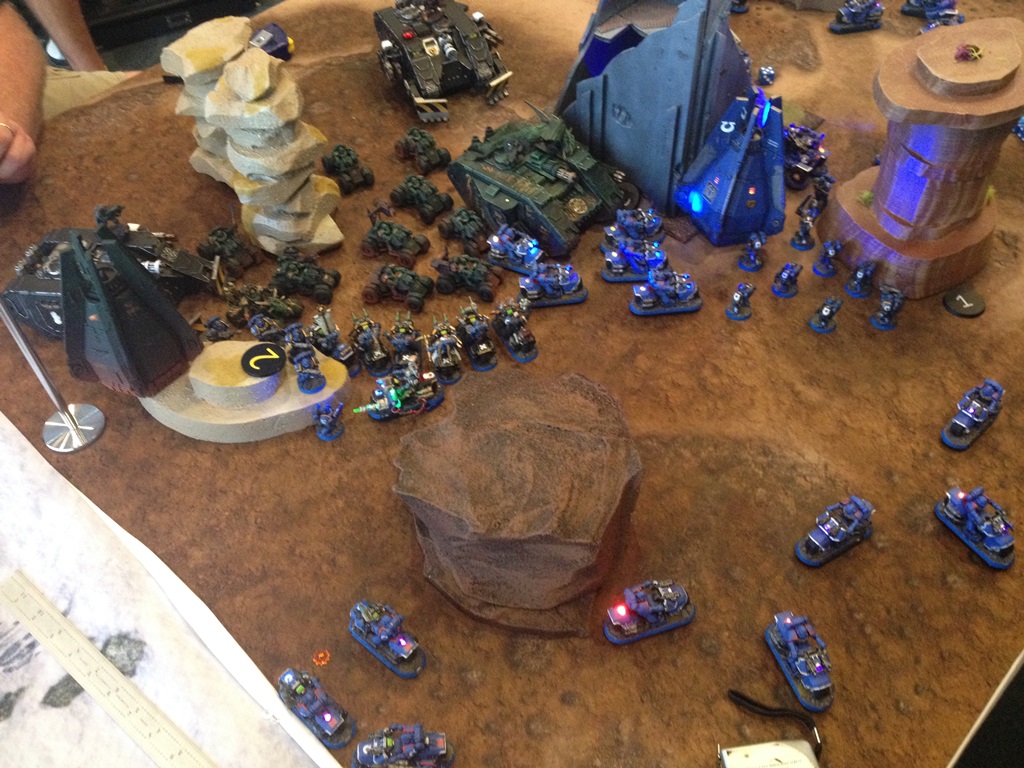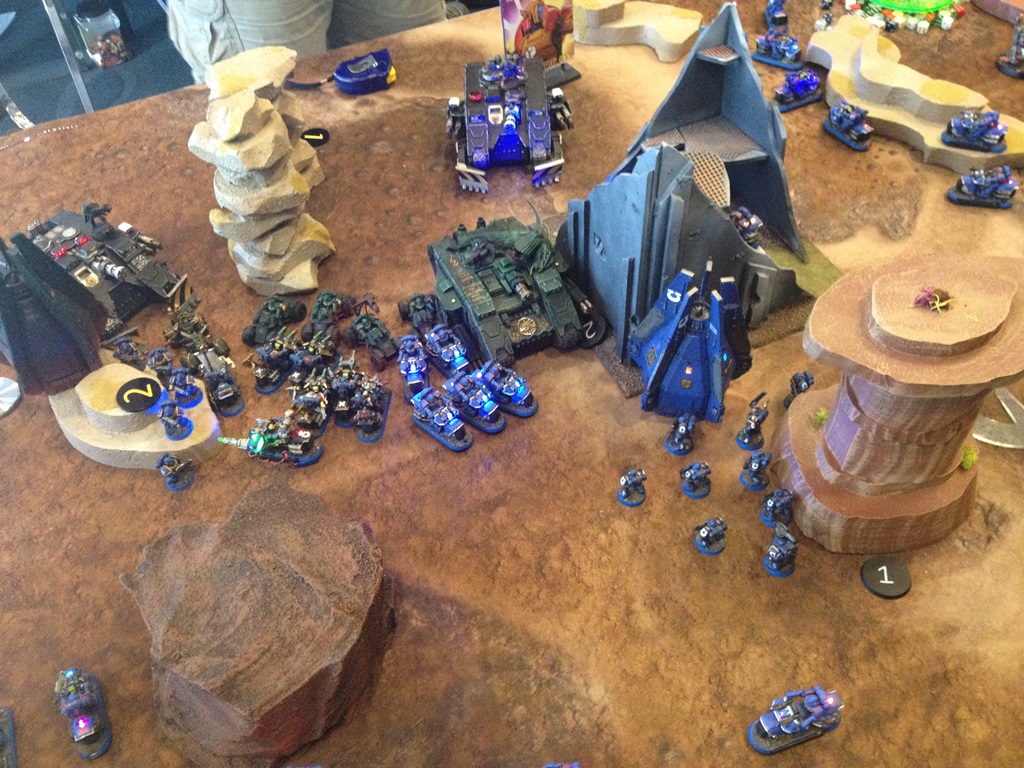 Pics of some of the Armies at the BAO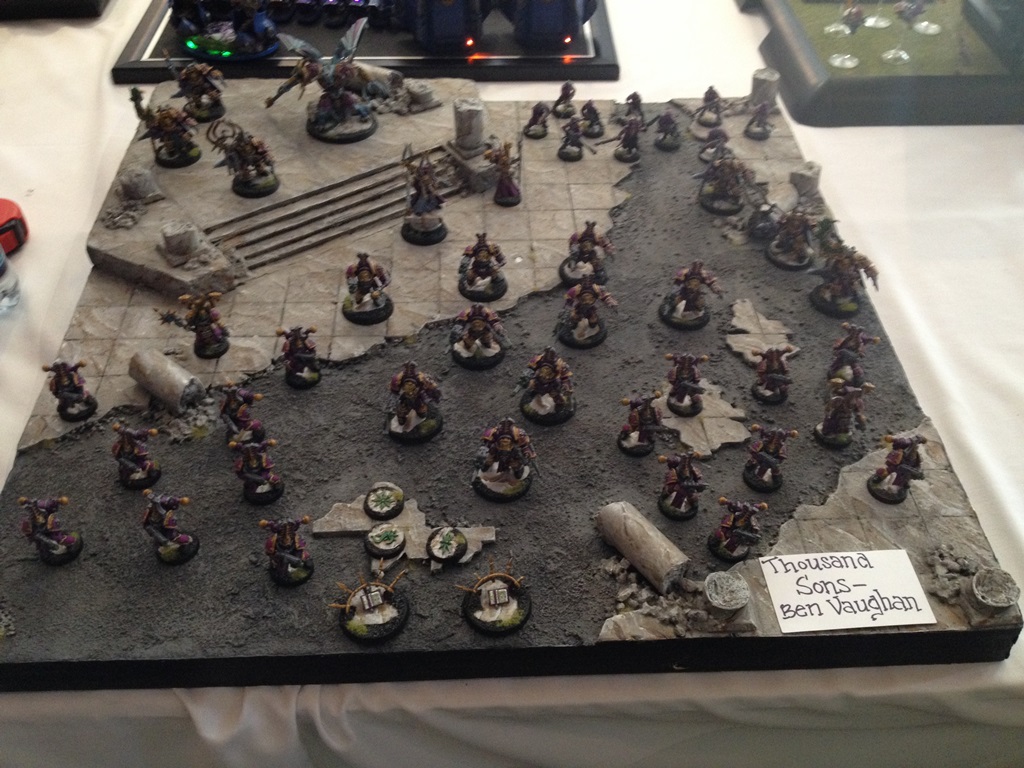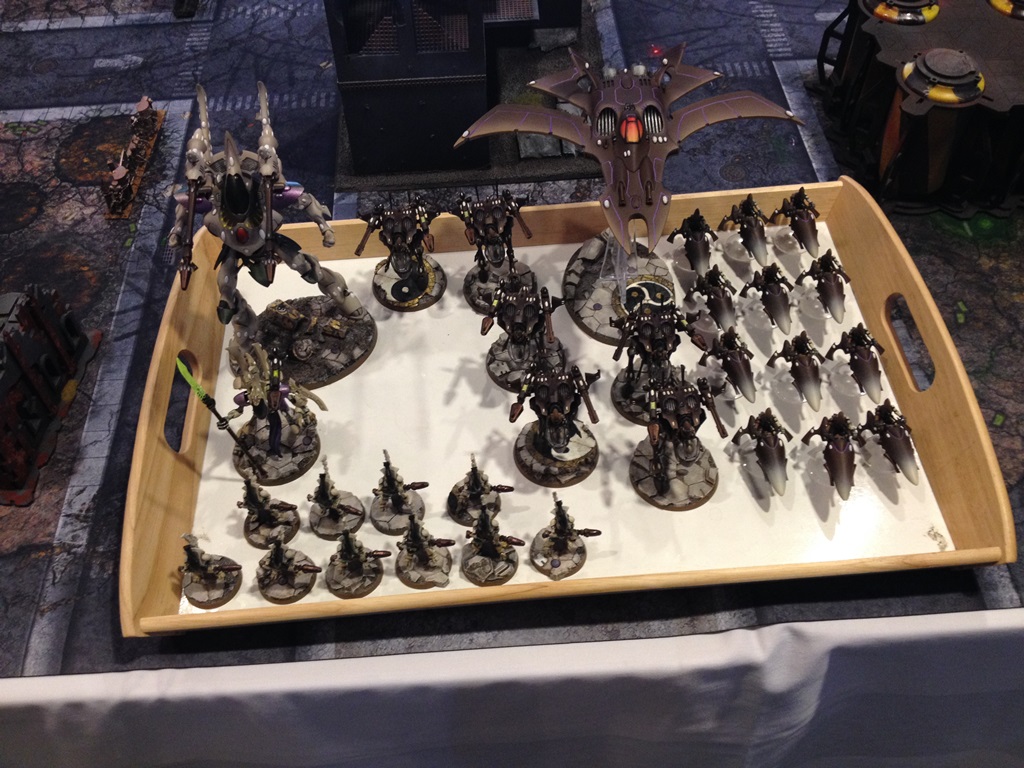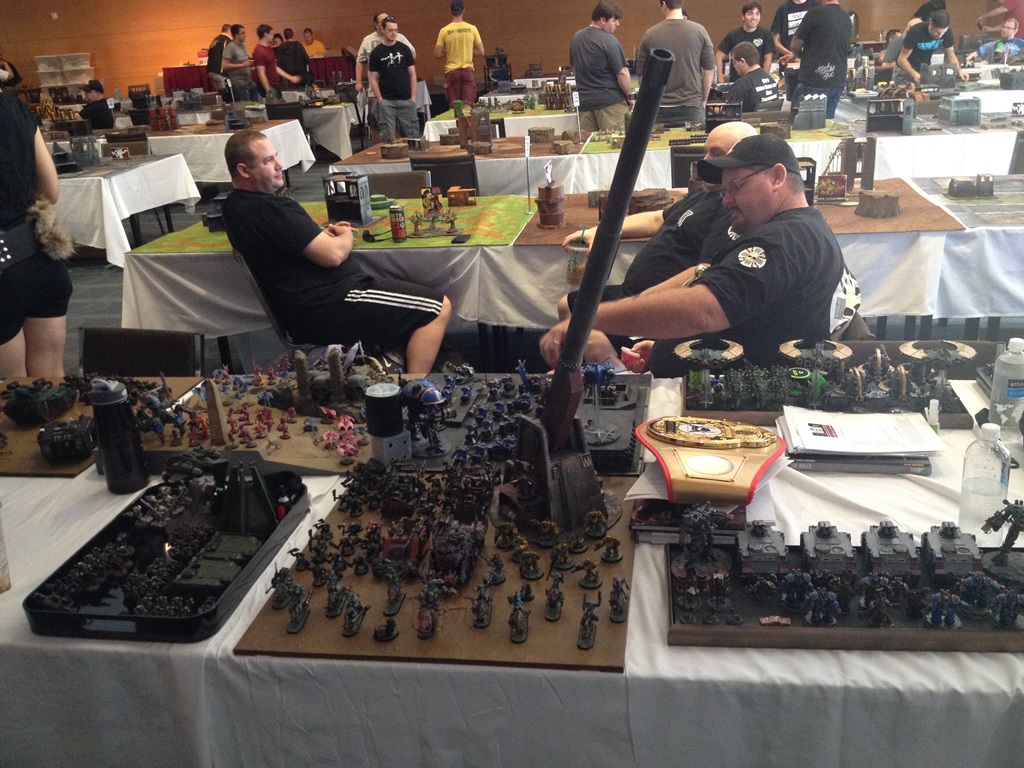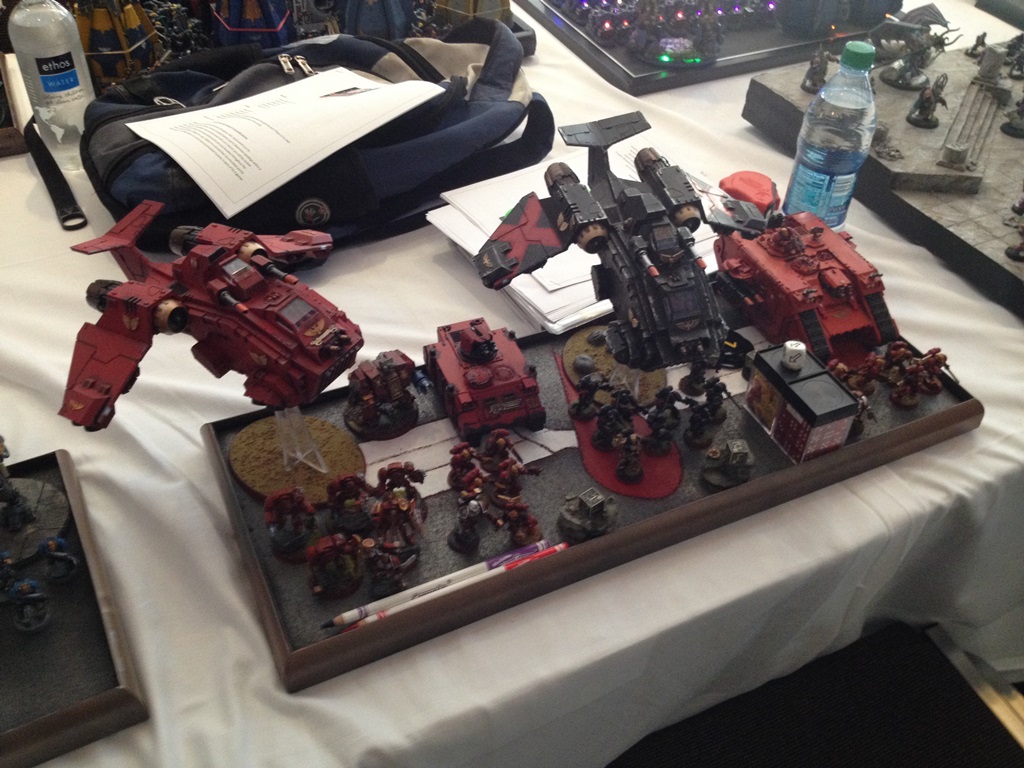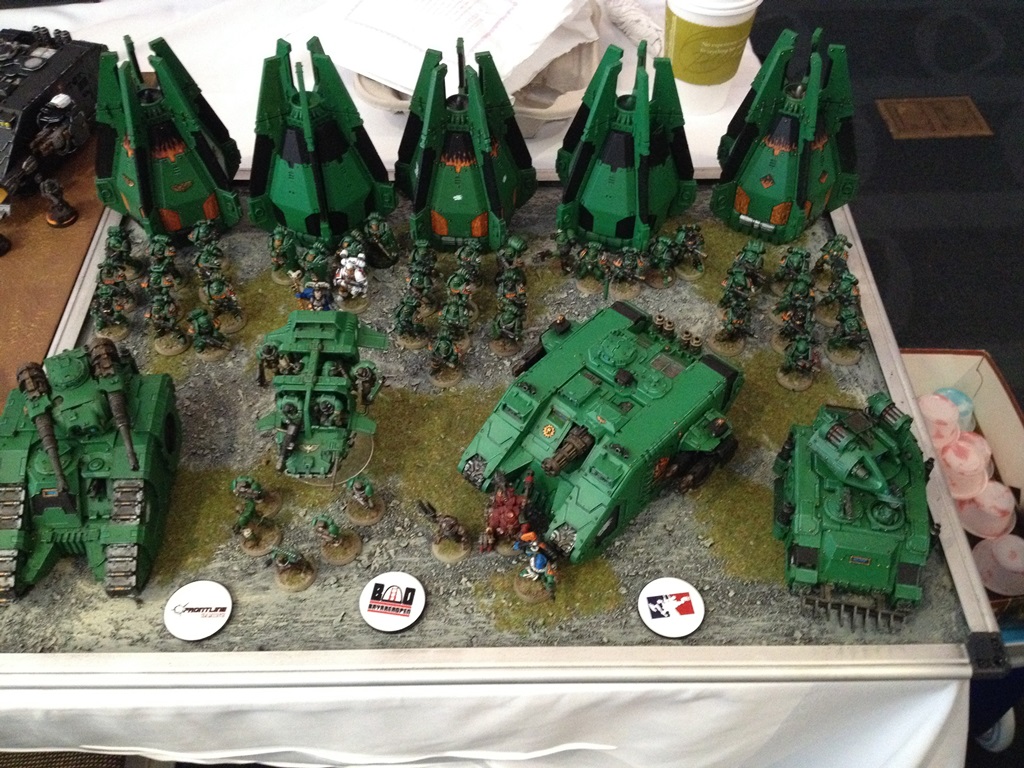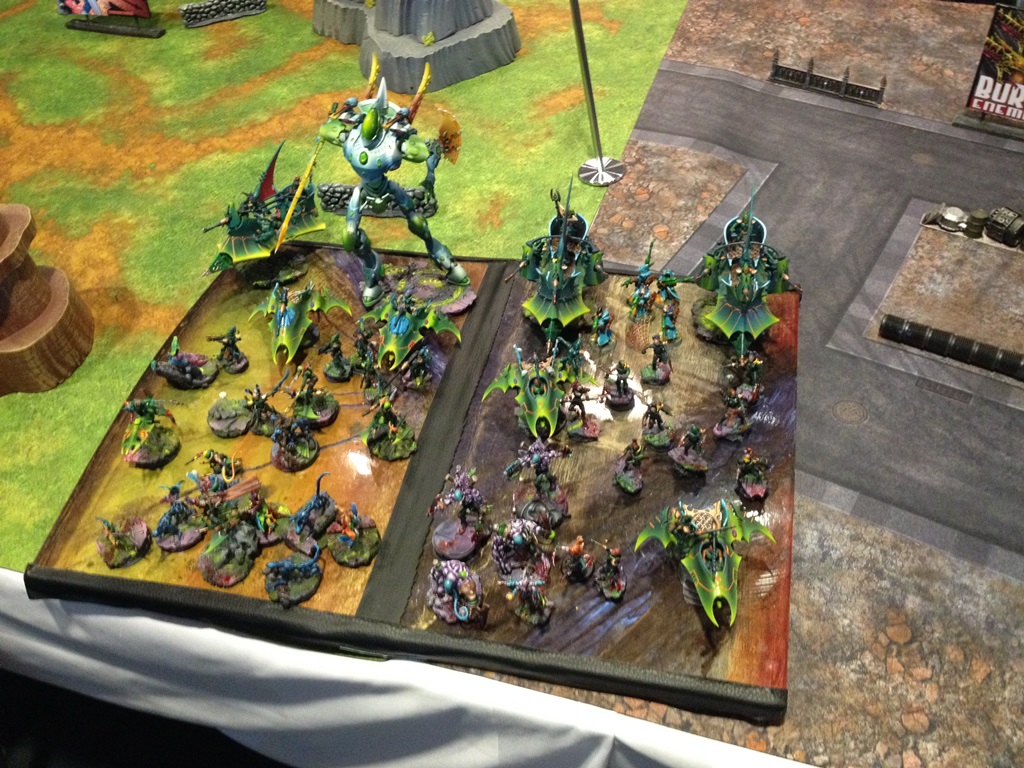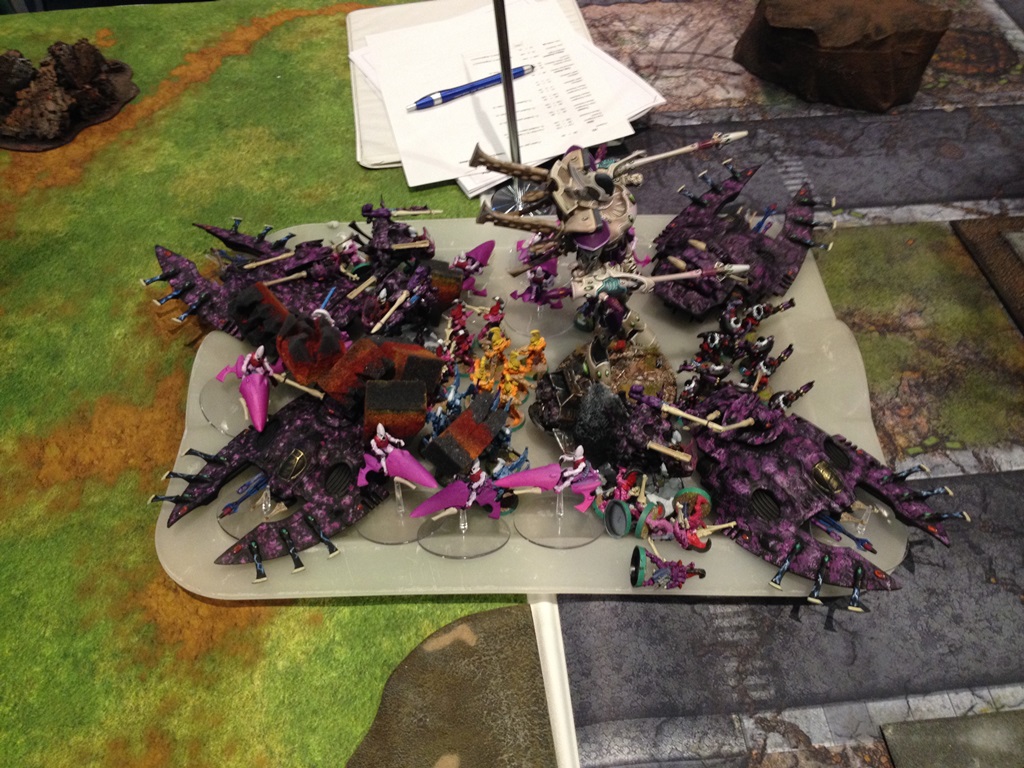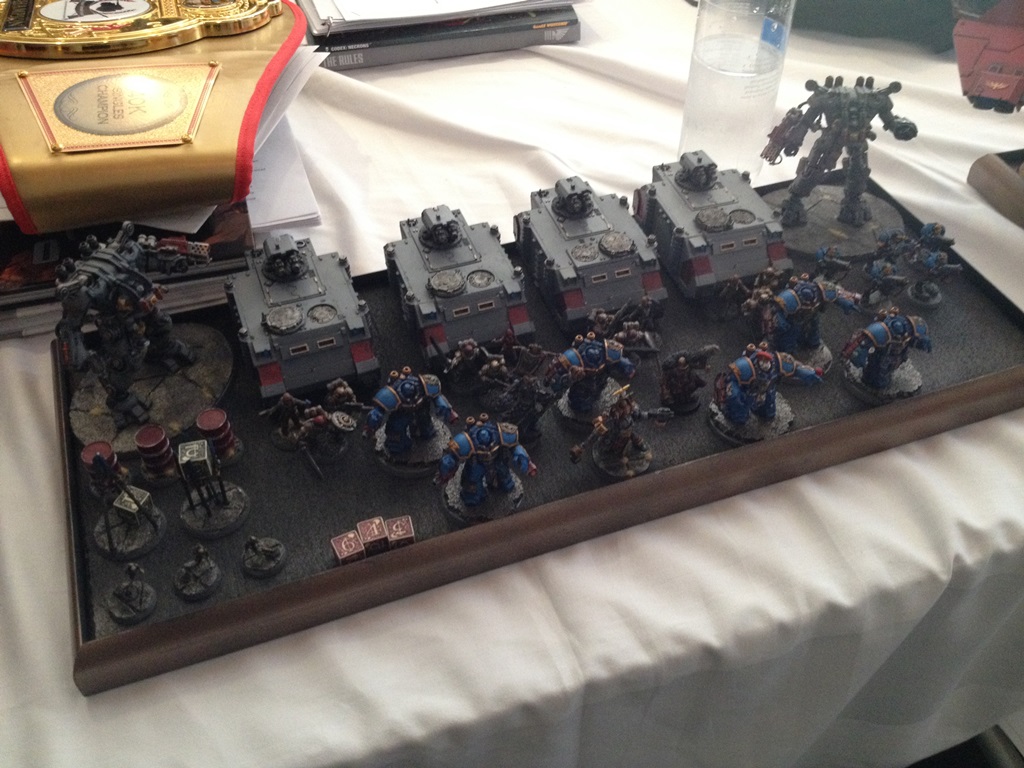 My final score was four wins and two losses. That put me in 20th place and best of all, I was able to achieve my goal and get Best Dark Angels player. Another great tournament experience. Next stop, Celesticon and its smörgåsbord of 40k gaming.
http://app.torrentoffire.com/#/tourname ... eaderboard
Parting shot: The man the myth... GTA in action!!